By Meghan Murphy and Jon Atherton 
Learning about food systems, food security, and one's own relationship with growing, cooking and advocating for healthy food is beyond what many think of as typical training for nurses. But this expansive view of health, allied to a growing connection with communities themselves, has emerged as an important priority for the Yale School of Nursing (YSN), whose graduating nurses and midwives contribute to the largest cadre of health professionals in America.
As part of their Community Health course, students in the first year of the school's Graduate Entry Prespecialty in Nursing (GEPN) program have partnered with the Yale Landscape Lab for a series of workshops that focus on the importance of creating meaningful connections with their patients as they work with them to learn to access and eat healthy foods. Recent sessions combined hands-on growing and cooking exercises with discussions and a lecture session designed to help the students explore their personal connections with food as a way to empower them to promote healthy lifestyles.
Growing evidence suggests that diet plays a crucial role in preventing chronic illnesses such as heart disease, diabetes and cancer. As America's biggest health care profession, nursing is ideally placed to help patients learn more about nutrition as a way to prevent and manage illness.
"Health is about action," stated YSN student Aliza Rosenstein '18. "We have become so disconnected from our food but it is an essential part of patient care."
For the last several months, Rosenstein has been working with fellow student Cecilia Duran '18 and Assistant Professor Monica Ordway to develop a series of experiential workshops that connect the school with the natural resources on West Campus. With guidance from Justin Freiberg, Director of the Yale Landscape Lab, the partners have developed a curriculum that stimulates the students to talk through the importance of cultural diversity, health and wealth disparities, and their own personal connections with growing foods and cooking.
"A significant part of our mission is for students to relate to people as individuals, recognizing the richness of our cultural backgrounds. Food is an important connecting point for all of us," said Ordway. "We want our students to think about their own connections to food and their environment as a way to creating deeper, more sustained and potentially more impactful interactions with patients." The student's experience at the farm meets a key objective of the community health course - to analyze the influence of cultural, political, nutritional, and economic factors on the health of individuals, families, and groups across the life span.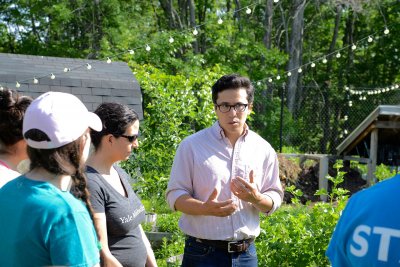 The workshops also highlight the important relationship between the students and numerous local food organizations. "The West Campus Urban Farm is one of many resources available to us in the Greater New Haven area. Learning how to access and partner with such resources is good for caregivers no matter their location, and great for their future patients as well," said Rosenstein.
"Our partnership with nursing is a great example of how we are leveraging the landscape for the benefit of scholarship at Yale, and ultimately for real-world impact," said Freiberg, who directs efforts at the West Campus Urban Farm, one of a number of initiatives within the Yale Landscape Lab. The Landscape Lab provides access to 136 acres of mixed urban and natural environment for synergistic projects in health science, food systems, ecology, energy systems, entrepreneurship, and land use, which now connect over 20 professional schools, departments, organizations, and student groups across Yale.