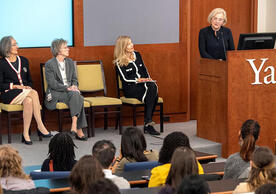 On October 26th, the 2018 GEPN class received their nursing certificates and traditional nursing baseball caps. It was an intense 11 months of pharm charts, care plans, and coffee, and it was exciting to gather with our friends and families and look back at what we've accomplished as a class. Linda Honan, Med-Surg professor and general GEPN cheerleader, delivered the keynote speech:
"You will always have this past year where together you fought your own transformation, embraced it, and ultimately came to learn nursing. Those early days of superficial judgments, unfamiliar language, confusing academic schedules have given way to a place where a rhythm is palpated, a comfort is felt, and rituals feel natural…You enter a community with a proud legacy and an undetermined future–you are one of many–you have inherited something but you are shaping something too. Your legacy is clear: you chose nursing at Yale to make a difference.  To care. It wasn't just your stated desire to care for people. It was your dedication to caring about people."
Linda's talk was a reminder of the work that lies ahead, and reaffirmed the importance of fighting for social justice not just in clinical settings but also within Yale School of Nursing. Our challenges have been not just learning how diseases manifest or memorizing drug contraindications, but trying to understand what "better health for all people" really means. Our work here as nurses, students, and activists is just beginning.
By Camille Lawhead, '20 MSN