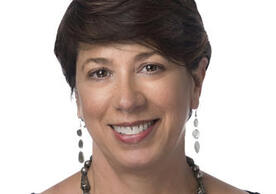 During her service in the Peace Corps, Julie Womack '94 MSN, '08 PhD, CNM, FNP-BC, witnessed a heavily pregnant woman walk 80 miles to labor for a week only to lose her baby and then die herself. In that instance, Womack found her call to nursing. "There's got to be a better way," she thought, so she came to Yale School of Nursing to study nurse-midwifery.
This phrase would resurface throughout her career, driving her to search for answers and eventually pursue her family nurse practitioner certification and PhD. Today, Womack investigates solutions to problems in our health care system through clinical and research projects she conducts with her colleagues at Yale New Haven Hospital's Nathan Smith Clinic and the Veterans Affairs (VA) Connecticut Health care System. "Multidisciplinary teams have been in all the large systems I've worked in and are a crucial aspect of getting anything worthwhile done," she states. "It's about finding the right people to work with who can help you move forward and whom you can help move forward with their work. It's a multiway street."
Womack and a multidisciplinary team of health care providers have implemented wellness visits at Nathan Smith, where Womack provides primary and specialty care to patients living with HIV. Together, they aim to improve the quality of care for HIV patients over the age of 50 by identifying unmet and potentially unrecognized needs. 
During an intensive visit, the team—a clinical provider, a social worker, and a pharmacist—talk with patients about what is important to them and where they are having problems. Assessments for functionality, strength, vision, hearing, cognition, and balance are administered. The team uses the comprehensive picture of the patient to identify needs that are unmet or under-met. Team members then offer suggestions, which sometimes include referrals, to the patient's primary Nathan Smith provider as to how to meet these needs.
In this clinical initiative, they are collecting data to identify major issues and improvements which better address the needs of patients aging with HIV. Womack explains the big picture: "Now that people are living and not dying with HIV, we need to pay attention to health-related quality of life, and some of the factors that have the biggest impact are falls, frailty, and functional disability."
Womack's research at the VA uses informatic tools to facilitate studies on falls in the aging HIV population and among middle-aged veterans. To do this work, she needed to address the lack of easily accessible data in the patients' electronic health records to identify falls. She collaborated with computer science colleagues to develop a machine learning algorithm to identify falls in radiology reports, with a high level of accuracy. This work paved the way for subsequent research studies and interventions targeted to patients and providers.
Womack is currently developing a clinical support tool for providers and patients to assess fall risk and identify appropriate interventions to help prevent falls. This work is based on a predictive model for falls that she and her team have developed. Her approach differs from that used in older adults as it emphasizes the role of substance use (illicit substances, alcohol, prescribed opioids) in fall risk among middle-aged veterans.
---
Read full magazine here.