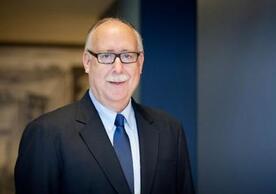 On July 1,  David Vlahov, RN, PhD, FAAN, started his new role as the Associate Dean of Research for Yale School of Nursing. He comes to YSN from the University of California San Francisco (UCSF) School of Nursing, where he was a professor of epidemiology and biostatistics and served as dean for five years. Under his leadership total grant revenue to researchers from the National Institutes of Health (NIH) increased by nearly 68 percent, funding studies in symptom management, alarm fatigue, drug intervention, and other research areas.
Vlahov commented, "I have great respect for the Yale School of Nursing, which has a reputation for groundbreaking innovation and an impressive record of leadership. Dean Kurth's vision is inspiring and the faculty's dedication to excellence in research, education, and service is impressive. I also see the ease with which schools across campus collaborate. I resonate with the School's commitment to embrace the expansion and benefits of diversity and to continuously strive to achieve health equity."
He began his career in service to others after attending Dr. Martin Luther King Jr.'s "I Have a Dream" speech. As a nurse educator, innovative scientist, and internationally recognized expert on urban health among vulnerable populations, he has served on the nursing faculty at Johns Hopkins and Columbia Universities, and was adjunct professor in the Medical Schools at Cornell, Mount Sinai, and New York Universities and the College of Nursing at New York University. His research interests include infectious diseases, substance abuse, and mental health. And his study of urban health has been groundbreaking.
Vlahov received the NIH MERIT Award for his work on the longest-running epidemiological investigation of its kind, looking at HIV infection in Baltimore among people who inject drugs. His research at the New York Academy of Medicine included a mental-health assessment and follow-up on 3,000 New York City residents after the events of Sept. 11, 2001. He also headed epidemiologic studies in Harlem and the Bronx, which led to intervention studies to address racial and ethnic health disparities. Vlahov was an expert adviser to the World Health Organization (WHO) and served on the National Academy of Medicine's Global Health Board and the American Association of Colleges of Nursing board of directors.
He has developed programs for and consulted with the Medical School in Belo Horizonte, Brazil, and the WHO's Urban Health Center in Kobe, Japan. With colleagues, he initiated the International Society for Urban Health, serving as its first president. Currently, he co-directs the Robert Wood Johnson Foundation's national Evidence for Action program. A fellow of the National Academy of Medicine and of the American Academy of Nursing, Vlahov has published more than 660 journal articles, edited three books, and is the editor-in-chief of the Journal of Urban Health.