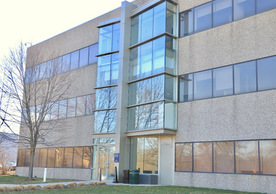 The Yale Medicine (YM) Reproductive Endocrinology and Infertility (REI) section opened earlier this month as the first YM clinical practice on West Campus. YM and Yale School of Nursing (YSN) leaders are hoping the introduction of REI paves the way for other clinical programs to relocate to the same area in the coming years, offering patients easy highway access and providing the practice with room to grow. 
REI is in advantageous proximity to YSN. "We are very excited about the possibilities that creates," said REI section chief Sandra Carson, MD. "We look forward to more collaborative education and integrated clinical services with YSN."
Dean Ann Kurth '90 MSN, PhD, CNM, MPH, FAAN echoed these sentiments."We are thrilled to welcome such a strong clinical partner to this location," she said. "A variety of opportunities become more easily available when providers collaborate across schools and disciplines, and these efforts result in better health outcomes for patients."
Part of the Department of Obstetrics, Gynecology and Reproductive Sciences, REI specializes in infertility and IVF treatments, and sees about 22,000 patients per year. 
"Obstetrics and Gynecology is proud to have the first medical practice at Yale West Campus," said Hugh Taylor, MD, chair of Obstetrics, Gynecology and Reproductive Sciences. "These new world-class facilities will enable us to expand and improve our infertility practice. We hope to serve as a model for other Yale Medicine clinical programs that will make West Campus a hub for clinical innovation." 
REI's new location offers a number of benefits. It provides much-needed additional space as REI expands its services and adds new physicians. Among those areas of expansion, REI is expected to continue expanding its services to members of the lesbian, gay, bisexual, transgender, and queer (LGBTQ) community through surrogacy and assisted reproductive technology. YSN and REI have already begun planning for how to expand innovative LGBTQ care.
The new clinical facility was specifically designed to meet the needs of patients with reproductive endocrinology and infertility issues. Among other things, it features a state-of-the-art in vitro fertilization (IVF) lab that is designed to culture eggs, sperm, and embryos. The new location also includes procedure rooms with anesthesia.  
The new facility has been designed to maximize patient comfort, both through state-of-the-art technology and calming furnishings and décor. Patients who undergo procedures can exit the building under their own, canopy-covered doorway to ensure privacy and convenience. 
Rooms were tailored to evolving patient needs including telehealth technology, patient education, and support groups. The facility also includes conference space for students, residents, and fellows, thereby supporting the program's academic mission. 
Patients, faculty, and staff will enjoy the many benefits of the new location, including free parking and amenities such as a conference center and scenic walking trails. "We are eager to take advantage of all the opportunities West Campus offers us," Dr. Carson said, "and we look forward to other clinical programs joining us on West Campus in the future."