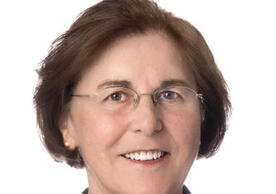 The Yale School of Nursing community is saddened to share the news that Dr. Ruth McCorkle, PHD, RN, FAPOS, FAAN, died peacefully at her home in Connecticut on August 17, surrounded by her family.
"Ruth was a pioneering figure in so many areas of the nursing profession: oncology, symptom science, and hospice care," said Yale School of Nursing Dean Ann Kurth '90 MSN, PHD, CNM, MPH, FAAN. "During her two decades at YSN, she mentored more than 70 doctoral and 30 post-doctoral students, ensuring that the next generation of nurses will be guided by her standards of rigorous clinical research and fierce dedication to the patients in her care. She will be greatly missed."
Trailblazing Work
In a career marked by distinction and decorated with firsts, Dr. McCorkle developed the Symptom Distress Scale, the first scale to measure patients' degree of discomfort from a specific symptom. One of the most widely used symptom assessment scales, the SDS is often used to assess patients with advanced cancers. Later, Dr. McCorkle's randomized clinical trial exploring advanced practice intervention for post-surgical older adult cancer patients resulted in a seven-month survival benefit. The trial revolutionized the field of palliative care, revealing to researchers that palliative care practices lengthen life.
Throughout her career, Dr. McCorkle was saluted as a nurse who focused on the desire to connect with patients and help them optimize their quality of life. She served as a captain in the United States Air Force Nurse Corps. in Vietnam, where she was exposed to both the extremes of human suffering and to Agent Orange. This theme of her life was also reflected in the subject of her thesis, where she chose to focus on the effect of touch for the seriously ill patient.
Career at Yale
Recruited by former YSN dean Judith Krauss '70 MSN, RN, FAAN, Dr. McCorkle arrived at Yale in 1998 and remained a vital member of the faculty until her retirement in 2018. At a symposium last year honoring Dr. McCorkle, Krauss saluted her former colleague as someone whose life's work made an "immeasurable and sustained impact on so many lives."
Dr. McCorkle served as the inaugural Florence Schorske Wald Professor of Nursing, and also led the program for Cancer Control at the Yale Comprehensive Cancer Center (YCCC) from 1998 to 2009. Embodying the type of collaboration across campus that so many educators strive for, she was a professor in the Department of Epidemiology and Public Health at the Yale School of Medicine, and director of Psychosocial Oncology at YCCC. In January 2018, Dr. McCorkle was presented with the Yale Cancer Center (YCC) Lifetime Achievement Award, a distinction given annually to a YCC member who has impacted the field of oncology both nationally and internationally. Fittingly, it was the first time the award was given to a non-physician.
Awards & Distinctions
Among her many accolades and distinctions, she was named a Living Legend in 2018, the highest honor awarded by the American Academy of Nurses. Dr. McCorkle was inducted into the International Nurse Researcher Hall of Fame, Sigma Theta Tau International, in 2014. She was presented with the Book of the Year Award for Cancer Nursing from the American Journal of Nursing; a Distinguished Merit Award from the International Society of Nurses in Cancer Care; and a Distinguished Research Award from the Oncology Nursing Society. She was also named the Nurse Scientist of the Year by the Council of Nurse Researchers of the American Nurses Association.
In 2009, she received the Bernard Fox Research Award for outstanding contributions to the field of psycho-oncology. Dr. McCorkle received the Jimmie Holland Leadership Award from the American Psychosocial Oncology Society, of which she was a president as well as a founder, and the Trish Green Quality of Life Award from the American Cancer Society. She was elected to the National Academy of Medicine in 1990.
Memorial Service and Reception
A memorial service will be held on Tuesday, September 24 at 2 p.m. in Battell Chapel at 400 College Street in New Haven. YSN will host a reception immediately following the memorial service at the Graduate Club on 155 Elm Street in New Haven. All are welcome to celebrate Ruth's life.