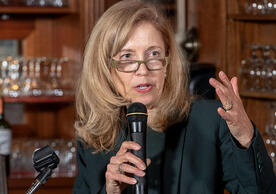 Since 1973, the Yale School of Nursing has annually recognized the work of alumnae/i who have made outstanding contributions to the fields of nursing practice, teaching, and research. Through their work or service to the community, these individuals have uniquely influenced the field of nursing. Last week, Dean Kurth hosted an awards dinner at the Yale Graduate Club honoring this year's five recipients of the Distinguished Alumnae/i Awards. They are: Barbara Shaw, MSN '88; Rose Clarke Nanyonga, PhD '15; Barbara Wolfe, MSN '87; Carol Shieh, DNSc '98; and Beth Esstman, MSN '00.
Retiring chair of the Yale School of Nursing Alumnae/i Association, Mary Geary, commented, "It is clear from the people in this room that our dedicated alumni are inspiring the next generation to use their Yale educations in creative ways to make the world a better place."
Barbara Shaw, MSN'88
Dr. Shaw is an assistant professor in the department of Community, Systems, and Mental Health Nursing at Rush University, as well as teaching in their DNP program. She received her MSN as a Family Nurse Practitioner (FNP) from Yale in 1988, and completed her doctoral studies at the University of Illinois at Chicago. In addition, she has an academic background in medical anthropology.
In her clinical practice, her research, her teaching and her community work, Dr. Shaw personifies the mission of the YSN of "better health for all people." Her "adventure of thought to the adventure of action, in touch with the fundamentals of human experience", as former Dean Goodrich described, began during her undergraduate work in anthropology, her living and working overseas in Scandinavia, and her coming to YSN.
Dr. Shaw has worked as an FNP nurse in community health centers in Boston and Chicago – always attending to those on the margins of society. Although bilingual in Spanish, she realized she needed to learn Portuguese to better communicate with patients at the clinics of Cook County Medical Center and so she did. She recently worked at a clinic that provides primary health care to people with disabilities, mobility disorders, severe psychiatric illnesses, sensory disabilities, and developmental disabilities. The center is unique in that it is accessible to a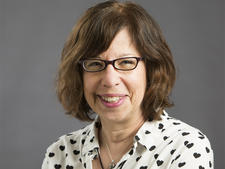 ll. The center is run by nurse practitioners from the University of Illinois at Chicago, and located on a street that has seen a rise in gang violence over the past year.
In addition to teaching and clinical supervision, Barbara provides care to immigrants and refugees at Heartland Health Center and participates in development and implementation of an advanced practice nurse fellowship in immigrant and refugee health. She works twice a week at the community clinic in Chicago's Uptown neighborhood where 90 percent of her patients are immigrants, mostly Latino, but also from all over Africa. She said she has never seen fear so severe in her 20 years as a nurse.
Rose Clarke Nanyonga PhD '15
A well-established healthcare leader, Dr. Rose Clarke Nanyonga, is Clarke International University's (CIU) Vice Chancellor in Uganda. She has served as both the Deputy Vice Chancellor and Acting Vice Chancellor. She also holds a Senior Faculty position at CIU, teaching Health Policy and Planning as well as Advanced Strategic Management.
Dr. Nanyonga received her undergraduate degree in Nursing from Arkansas Tech University, earned an MSN from Baylor University, then went on to earn her PhD in Nursing from Yale, where she was a Jonas Scholar, and a recipient of the Graduate Certificate of Concentration in Global Health. Her PhD work examined Leadership, Followership and the Context; an Integrative Examination of Nursing Leadership in Uganda.
Dr. Nanyonga has worked as the Director of Nursing Services for International Medical Group (IMG), a leading and largest private health system in Uganda, and was instrumental in helping Dr. Clarke establish the International Hospital Kampala School of Nursing which formed the first faculty in CIU. She then worked as the Director of Clinical Services and Senior Manager for IMG, managing clinical operations for the hospital and all associated service centers, while maintaining an active role in teaching, public speaking and advocacy.
In 2009, Dr. Nanyonga pioneered a grassroots campaign to end child sacrifice and crimes associated with ritualistic child sacrifice in Uganda.  She has continued to be an avid advocate for change in this area and continues to lobby for appropriate dialog and laws to address practices and crimes related to child sacrifice.
Dr. Nanyonga holds several public speaking engagements as an inspi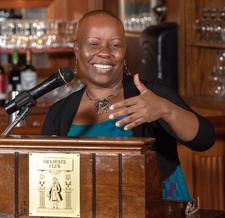 rational and motivational speaker. She is particularly interested in dialog on transformational leadership, growing leadership capacity for future generations of healthcare providers, how current professionals can retool themselves to match the competitive and cutting-edge work culture of the 21st century, and fostering leadership to transform rhetoric into action. Her leadership training series: Dream, Inspire, Enable, has been instrumental in enhancing leadership skills for senior nursing officers in the country.  She believes that nurses are great leaders and as such, should be able to dream, inspire and enable others to achieve better results.
Dr. Nanyonga serves on several not-for-profit, corporate, and advisory boards including Clarke Group, Narrow Road International Aid, The Nursing Now Campaign, Uganda Steering Committee, REMI East Africa, and The Sinza Project.
Barbara Wolfe MSN '87
Dr. Barbara Wolfe is dean and professor at the University of Rhode Island College of Nursing. She was previously the associate dean for research at the Connell School of Nursing at Boston College and held a faculty appointment in Psychiatry at Harvard Medical School and Beth Israel Deaconess Medical Center. Dr. Wolfe is internationally known for her work on women with eating disorders. Her research focuses on the relationship between biological correlates of clinical symptoms and the implications for intervention and relapse prevention. Her work has been funded by the National Institute of Mental Health and widely disseminated through publications and national and international presentations.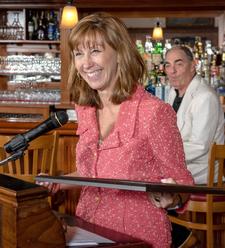 Dr. Wolfe is a past President of the American Psychiatric Nurses Association. She's served on numerous national committees including the American Psychiatric Association's Diagnostic and Statistical Manual (DSM-5) Eating Disorders Workgroup and is a former chair of the National Institutes of Health Nursing and Related Clinical Sciences Study Section. She is currently a member of the editorial boards for the Journal of the American Psychiatric Nurses Association and the International Journal of Eating Disorders. She is a former Robert Wood Johnson Foundation Executive Nurse Fellow, and a past recipient of APNA's Psychiatric Nurses of the Year Award. Dr. Wolfe is a Fellow in the American Academy of Nursing and member of the Eating Disorder Research Society and Sigma Theta Tau Honor Society for Nursing.
Carol Shieh DNSc '98
Dr. Shieh is an associate professor at the Indiana University School of Nursing in Indianapolis. She has a clinical certification in inpatient obstetric nursing and a public health background. Dr. Shieh was one of the three graduates in 1998 from the first cohort of the Yale University School of Nursing's DNSc program. Since graduation, she has worked in academic settings in Connecticut and Indiana.
Throughout the years, Dr. Shieh has committed to preparing future nurses to practice at all levels, as well as to advancing nursing science. She has received numerous awards recognizing her contributions to creative pedagogies used to teach nursing students health disparity, health literacy, health message design, and linking health disparity data to practice change. Dr. Shieh was the first nurse educator who published results of training undergraduate and graduate students and practicing nurses to systematically assess readability and suitability of patient education materials. She was also the first nurse researcher to publish empirical data on theory-based health information-seeking behavior among pregnant women. She developed a composite scoring system that demonstrates how information-seeking could change with reference to information needs and barriers. She is the author of the Pregnancy Health Information-Seeking Scale and the Pregnancy Health Information Barriers Scale. Dr. Shieh's research findings have been used to shape policies, such as the European Union regulates readability of training materials for multilingual workers and US Department of Health and Human Services synchronizes federal agencies to concurrently improve financial and health literacy of low-income populations.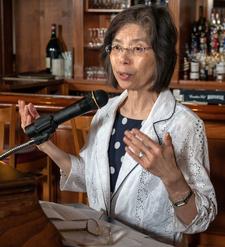 Dr. Shieh is a health promotion researcher focusing on improving maternal health and reducing infant mortality. She has studied pregnant illicit drug users, women with leprosy, immigrant women, low-income women, and women with overweight and obesity. Her current research portfolio includes designing and testing a smartphone-assisted self-monitoring weight management intervention for pregnant women. She and her interdisciplinary colleagues also use text messaging, social media campaign, and community-engagement approaches to developing infant mortality awareness and maternal risk reduction education programs. Dr. Shieh's publications are adopted by nursing, medicine, medical informatics, health education, health communication, and public health research sectors across 16 countries in 5 continents. She has received awards for her contributions to women's health research, nursing science, preventive medicine, and translational science. She is a Fellow of the American Academy of Nursing.
Elizabeth Esstman MSN '00
Ms. Esstman is board certified as a gerontological nurse practitioner and as an adult gerontology primary care nurse practitioner by the American Nurses Credentialing Center (ANCC). She has dedicated her career to maximizing quality care to older adults, to enhancing the geriatric education of nurses, and to advocating for the role of the nurse practitioner.
She currently practices in Connecticut providing comprehensive, specialized, geriatric primary care to homebound older adults and hospice patients living in the community. Ms. Esstman was instrumental in establishing the Nurses Improving Care to Healthsystem Elders (NICHE) program in a long-term care facility in Connecticut, making it the first skilled nursing facility in the state to incorporate this nationally recognized initiative to improve geriatric care and to educate nurses in specialized geriatric care. She has been a clinical instructor for the Yale School of Nursing since 2007.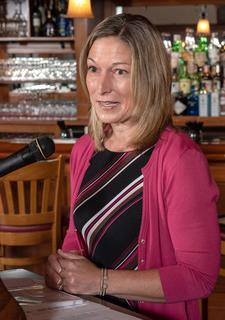 Ms. Esstman has served on the national Adult-Gerontological Nurse Practitioner Primary Care Content Expert Panel with the ANCC since 2011. She was elected Vice Chair of the Content Expert Panel in October 2013 and elected Chair of the Expert Panel in December 2017. She has served on the board of the New England Gerontological Advanced Practice Nurses Association (GAPNA), the national GAPNA long term care special interest group, and the national GAPNA health affairs committee. She is currently a board member of the Acute Care Geriatric Nursing Collaborative.
Ms. Esstman fought to allow advanced practice nurses in Connecticut to write do not resuscitate (DNR) orders by educating nursing groups, meeting with legislatures and presenting testimony to the public health committee. She has published in Consultant and in the John A. Hartford Institute for Geriatric Nursing's Try This Series: Best Practice's in Nursing Care to Older Adults.