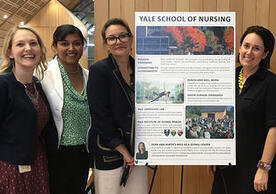 As a part of Yale's Celebrate Sustainability week in early October, several schools and departments from around Yale gathered together to display their sustainability plans and goals through a poster session and reception. Through creativity, innovation, and mindful exploration, each unit crafted the content for their posters in support of the Yale Sustainability Plan 2025. See YSN's poster online here.
Established in 2005, the Yale Office of Sustainability's mission is to advance sustainability at Yale by acting as a catalyst for information exchange, while facilitating capacity building, innovation, streamlined operations, and the preparation of tomorrow's sustainability leaders. Yale School of Nursing Dean, Ann Kurth serves as co-Chair of the University's Sustainability Advisory Council which is comprised of university leaders and alumni who offer guidance on Yale's Sustainability Plan.
Saveena Dhall, Associate Dean of Student Affairs and chair of the YSN Sustainability Team, spoke on behalf of the school at the reception, describing YSN's vision for sustainability, and highlighting aspects of the YSN Sustainability Action Plan's health and wellness goals, including the development of green clinical standards for the school's simulation spaces, and ongoing curricular innovations. YSN's Sustainability Action Plan can be found online here
In its commitment to "better health for all people," the Yale School of Nursing sets a proactive tone for its teaching, research, and service. Health care and sustainability are intimately linked in many ways, including but not limited to: healthy food, clean air, clean water, and physical fitness. There are myriad examples of environmental influences on human health – from high asthma rates due to air pollution, to increased ranges for disease vectors due to climate change. In parallel with this, instances of human health-related activities that reduce negative ecosystem impacts include gardening for fresh, healthy food, and biking or walking instead of driving. In this context, the Yale School of Nursing has remarkable capacity to embrace and enhance sustainability at Yale, in the greater New Haven Area, and in the world.