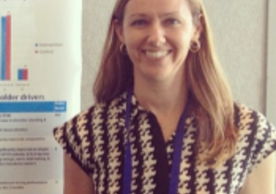 The competitive Lawrence S. Bloomberg Faculty of Nursing has accepted YSN PhD student Nancy Knechel '15 to present her research at the Emerging Nurse Scholars Forum on October 26-27, 2015 in Toronto, Canada. Knechel is the second student in YSN's history to be selected.
"I am honored to have been chosen to participate in the Lawrence S. Bloomberg Faculty of Nursing Emerging Scholars Forum," said Knechel. "This Forum offers a rare occasion to interact and exchange ideas with leading nurse scientists in content areas different than my own, and I am so grateful that I have been selected to be part of this exclusive Forum."
The Bloomberg Emerging Nurse Scholar is an invite-only program in which developing nurses come together to share research and connect with other nurses and doctoral students. Knechel will have the chance to share her research while reaching out to others to collaborate and help each other improve their ideas and further build upon nursing science.
Knechel will be presenting her research titled, "The relationships between sleep disturbance and falls among Veterans who have experienced strokes". "Falls are a multibillion-dollar public health problem and fall prevention is the focus of many local, state, and national policy initiatives," explained Knechel. "Presenting my research findings among such highly regarded scholars will offer a unique professional growth opportunity that I believe will be highly valuable as an early career nurse scientist."
From Sacramento, CA, Knechel earned her bachelor's of science from California State University, Chico, in 2002, her bachelor's of science in nursing from the University of Maryland, Baltimore, in 2003, and her master's of science in nursing from the University of Pennsylvania in 2006.  She was a John A. Hartford Foundation Patricia G. Archbold BAGNC Scholar from 2012-2014 and was elected to the American Nurses Association Congress on Nursing Practice and Economics.
The Lawrence S. Bloomberg Faculty of Nursing Emerging Scholars Forum supports early career development and international networking of emerging nursing scholars who are embarking on a research career. The LSBFON is widely recognized as a research-intensive environment that promotes education and scholarship in nursing. The 2015 Emerging Scholars Forum follows the highly successful 2013 and 2014 Forums which brought together the next generation of leading nurse scientists.