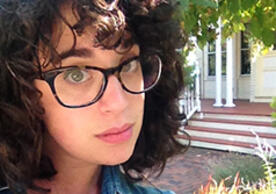 The recipient of the Dorothy Sexton Scholarship for the 2017-2018 academic year is Stephanie Meissner, an Adult/Gerontology Acute Care Nurse Practitioner (A/G ACNP) in her final year of study at Yale. Totaling $9000, the scholarship is based on the demonstration of academic and clinical excellence, as well as financial need. It supports one student each year in his or her pursuit of the highest quality of nursing practice and scholarship. Recipients are encouraged to exemplify the qualities Dorothy Sexton embodied during her many years in nursing and nursing education.
When accepting the scholarship, Stephanie stated, "This honor means a lot to me! In reading about Dorothy, I saw that she attributed her success at YSN to "having an eye for the best faculty" – a tradition that has definitely continued beyond Dorothy's tenure at YSN. I've found the Acute Care faculty to be especially excellent educators and very supportive both in and outside of the classroom".
Dorothy Sexton was a graduate of the Hospital of Saint Raphael School of Nursing, and earned her bachelor's degree at Boston College and her master's and doctoral degrees from Boston University. Before coming to Yale in 1974, she taught at the University of Massachusetts at Amherst and at Boston University, and conducted research studies on how families cope with chronic illness, particularly pulmonary disease. She was recruited by YSN for her experience in teaching students who were new to the profession.
At Yale Dorothy created the Medical-Surgical Nursing Program (now the A/G ACNP Specialty) and a new master's program for college graduates with no prior nursing experience (now GEPN) – the first program of its kind in the country. She was also instrumental in launching the doctoral program (now PhD).
The Dorothy Sexton Scholarship was established on the occasion of Dorothy's retirement from the YSN faculty in 2001 to advance a new generation of nurse clinicians and scholars. It commemorates her unparalleled contributions to nursing education and, in particular, to the dedication and professional guidance for which she will always be remembered.
Dorothy died suddenly on September 29, 2006 at the age of 69. Her devotion to YSN and to her students and alumnae/i was absolute and she never wavered in meeting the highest possible standards of excellence in teaching, writing, and practice.
Stephanie added, "As I finish up my schooling and begin to practice, I will definitely do my best to exemplify the qualities Dorothy embodied during her years in nursing and nursing education."