Even before they entered the collapsed building, first-year Graduate Entry Prespecialty in Nursing (GEPN) students could hear the screaming and feel the panic through the smoke. These brave nursing students knew they were participating in a mass casualty disaster simulation (sim). They knew on some level that the sobbing of a young girl was a prescribed part she was acting out and that the metal pole gruesomely protruding from a man's leg was the result of skillfully applied special effects makeup, but the adrenaline felt real enough.
Then the sirens started, adding to the cacophony. First, the local police pulled up in a squad car, lights flashing across the top, and then the ambulance announced its arrival with a distinctive wail.
---
A Training Exercise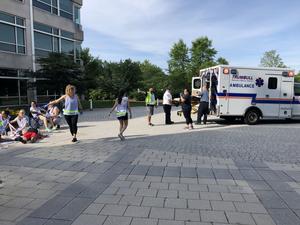 Trumbull Emergency Medical Service provided volunteers and equipment for the exercise. "We came to collaborate and saw this as a great opportunity for our team," said Trumbull EMS Chief Leigh Goodman. "We loved seeing it from the other side, the nurse perspective." 
Students worked in teams to assess the scene and triage and evacuate the victims. They made splints out of whatever firm material was close at hand, made bandages to stop the copious bleeding, and worked hard to communicate with each other and the emergency personnel. 
"Going through a disaster like this in the safe environment of simulation gives our students the opportunity to learn a new skill set. In the era of climate change, nursing needs to be front and center as first responders who keep health care systems resilient." said Dean Ann Kurth '90 MSN, PHD, CNM, MPH, FAAN.
An Evolving Scenario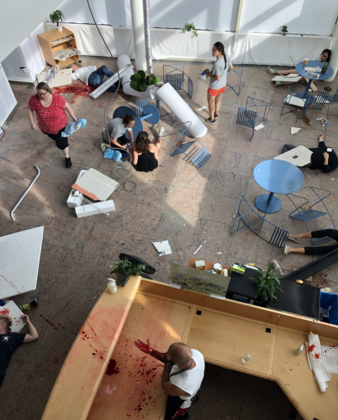 Students also learned how quickly a situation can change. Seemingly stable patients can exhibit more alarming symptoms in the blink of an eye, and even relatively unscathed victims can cause unintended havoc by distracting medically trained professionals or refusing to leave dangerous areas.
YSN Simulation Director Virginia "Ginger" Sherrick, MSN, APRN, FNP-BC, RN-BC, CHSE and simulation faculty member Shannon Pranger, MSN, RN, CEN, CNE designed and ran this sim, watching eight sessions unfold from a command center equipped with six cameras placed around the scene. Sherrick and Pranger then debriefed with the participants after each session. A total of 116 students were assessed during the academic exercise, which took place over two days.
This is the second year YSN has hosted a mass casualty sim of this scale. Students do not know what to expect when they arrive, and details are kept under wraps until the assessment begins. Last year, the scenario took place in a grocery store after a tornado, with an unknown number of victims suffering unknown injuries. Watch a video of the 2018 tornado disaster sim here.