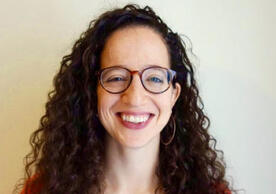 When Jenny Ajl isn't studying for her joint master's degree at Yale School of Nursing in public health and nursing (the MPH/MSN degree), she is helping to lead a New Haven-based program called the Refugee Patient Navigator Program. Started by Yale medical students two years ago in partnership with the Yale Refugee Clinic (which began in 2007), the program has been opened up to YSN students during the last year.
Through the Refugee Patient Navigator Program, teams of medical, physician associate (PA), and nursing students are matched with refugee patients dealing with complex medical problems and facing significant barriers to healthcare. Depending on individual patient needs, navigator teams work to promote the health of their patient by forming a longitudinal relationship over the year, providing health education and generally advocating for their patient's healthcare needs in our system.
Ajl's prior experience working with immigrant populations in New Haven as the director of HAVEN social services department, as well as her work in New York City as the coordinator of a medical legal partnership for unaccompanied immigrant youth, has perfectly equipped her for this important leadership role.
The Yale Refugee Clinic screens 200 to 300 patients a year, and then connects them to primary care services in New Haven. The majority of these refugees come from Iraq, Syria, and Afghanistan. Residents at the clinic recognized a need for additional guidance for high-risk recently-arrived refugees, which is where the navigator program kicks in. Patients are referred by doctors and staff (as well as by staff of New Haven non-profit Integrated Refugee and Immigrant Services, who work closely with refugees) based on multiple criteria, including low English proficiency and high medical needs that are not well-controlled. Some examples of what the navigators do include coordinating appointments with multiple providers; ensuring that patients have adequate understanding and ability to receive medications and to follow-up on their medical plans; and acting as liaisons and advocates across all the patients' providers. Navigators accomplish this by following medical charts, keeping up with patients, contacting providers, and attending appointments along with their patients.
As Jenny explains, "As we all know, the US healthcare system is an incredibly confusing bureaucracy, and is exponentially so for those who are new to the United States. While I am still learning how to be a a nurse practitioner, I am comfortable in these spaces, and literate in the culture of medicine, and being able to use these nascent skills and knowledge feels like a great use of my time, resources and access, as well as a fantastic way to connect to the refugee community in New Haven."