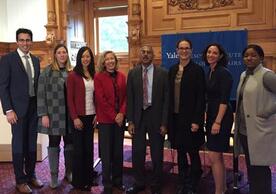 Non-communicable, chronic diseases such as heart disease and diabetes now account for more illness and death throughout the world than communicable diseases. This shift in the global disease burden spurred faculty from Yale School of Public Health and Yale School of Medicine to form the Yale Network for Global Non-Communicable Diseases (NGN) in 2015. The goal of this group is to develop a transdisciplinary, collaborative, on-campus network focused on global non-communicable disease (NCD)-related scholarship, education, and advocacy.
Earlier this fall, Yale NGN organized an inaugural symposium entitled, "Fostering Cross-Campus Collaboration at Yale on the Global Non-Communicable Disease Crisis." The symposium was funded by The Edward J. and Dorothy Clarke Kempf Memorial Fund from the Yale MacMillan Center, and co-sponsored by the Yale Global Health Leadership Institute (GHLI) and the Yale Institute for Network Science (YINS). It convened more than 80 faculty and students from across campus to galvanize action toward the WHO NCD Global Monitoring Framework — a global commitment to reach a 25% reduction in avoidable deaths due to NCDs by 2025.
The keynote speakers at the symposium were Dr. Ann Kurth, the Dean and Linda Koch Lorimer Professor of the Yale School of Nursing, and Dr. Venkat Narayan, the Ruth and O.C. Hubert Professor of Global Health and Epidemiology at Emory University. They discussed challenges and opportunities for global NCD work, pointing to specific strategies for successful collaboration. Together, they emphasized that academics working in silos are less likely to make an impact than those working in collaborative teams. Following the keynote speakers, the six founding members of Yale NGN gave a panel presentation introducing their diverse areas of academic focus and the overarching goals of the network.
The afternoon of the symposium was devoted to five round-table workshops. The primary objectives of the workshops were to identify and build collaborative research networks to advance education, research, and advocacy in five key topic areas. The topic areas were: ethical standards for academic global health efforts, mental health in the 21st century, maternal child health and NCDs, integrated health services delivery, and access to essential medicines. The workshops brought together diverse groups of faculty, trainees, students, and staff from across campus, placing lawyers and doctors, ethicists and sociologists side by side to tackle the issues together.    
Looking forward, NGN will continue to build upon the theme of innovative cross-campus collaboration by providing a platform for connecting individuals and groups across Yale who are interested or engaged in global NCD research, education, and advocacy. For more information, please email ngn@yale.edu.