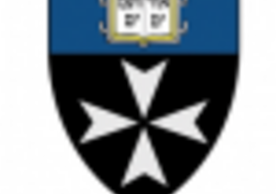 As Yale embarks on year two of Access Yale, a University-wide initiative to increase financial aid across all schools and units, President Peter Salovey '86, PhD, has announced a new goal of $250 million. This initiative has established three new endowed scholarships for masters nursing students this past year, and the goal is to secure additional resources throughout this final year of the campaign to empower even more leaders in nursing and healthcare.
"Access Yale is an opportunity to secure the resources we need to expand our undergraduate program, make our financial support more competitive at the graduate and professional level, and enable more of our students, throughout the university, to graduate without excessive debt," said President Salovey. "I am thankful to our alumni, parents, and friends who have already contributed to this important effort."
YSN students are too familiar with the debt that President Salovey refers to. Nursing and midwifery students enrolled in the master's program receive an average $10,000 in Yale scholarships, but graduate with more than $122,000 in debt. In order to ensure that students have the ability to choose Yale, the University is committed to raising financial aid endowment and increasing the need-based and merit based aid. Financial aid is essential to the future of this nursing education.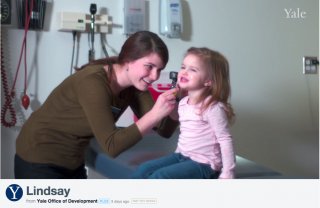 Access Yale will benefit students like Lindsay Geoghegan '16. Prior to coming to YSN, Geoghegan spent time working with women and infants diagnosed with HIV/AIDS in Rwanda and gained a great appreciation for that population. This past summer she lived in Uganda to help launch a primary care clinic, and hopes to pursue this trajectory of foreign service and care post-graduation. 
Listen to her story, as she brings us through her experiences, what she hopes to achieve as a nurse, and her gratitude for financial aid from YSN supporters.
Giving Opportunities
$100,000: Doctoral Fellowship in Nursing
The introduction of the PhD degree in fall 2006 marked ten years of increasing growth in the development of YSN's research programs. Endowed fellowships support nurse scientists in the doctoral program who, through their original research and scholarly inquiry, advance the profession and practice of nursing.
$50,000: Nursing Scholarship
Increasing scholarship support for our students is among YSN's highest priorities. While an increasing number of students qualify for financial aid, most finance their education through a combination of public funding, scholarships, and private loans. With decreasing public support and an average YSN scholarship of only $10,000 per year, students have little choice but to increase the amount of their private loans. An endowed student scholarship provides critical financial aid in perpetuity and helps YSN to remain competitive and continue to recruit the best and brightest students. 
For more information about how you can help support Access Yale at YSN, please contact: 
Steve Varley
Associate Dean for Advancement
Yale School of Nursing
PO Box 27399
West Haven, CT 06516-0972
203.785.7920
steve.varley@yale.edu
www.nursing.yale.edu/alumnaei-and-giving
Snapshot of Student Financial Aid at YSN
Annual cost of attendance: $65,332
Average debt at graduation: $122,172
Financial aid budget: $2,318,808
Amount of financial aid budget covered by endowment: 52%
Total annual aggregate need: $12,681,897
Total unmet annual scholarship need: $10,363,089