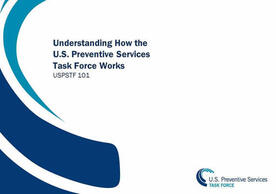 The U.S. Preventive Services Task Force (USPSTF) has published a new paper explaining the rationale and process behind issuing population-specific recommendations.
USPSTF is an independent body of clinical experts charged with developing evidence-based guidelines for screening, preventive medications, and counseling services in primary care setting across the United States. In a paper published in the Annals of Internal Medicine, the USPSTF offers details on its evidence-based approach to the guidelines and recommendations upon which many healthcare stakeholders rely. 
While USPSTF guidelines apply to all Americans, there may be situations in which different groups of people (women vs. men, older vs. younger, of one racial/ethnic group or another, for example) may need a nuanced version of the guideline.
The paper outlines in detail the methods that the USPSTF uses in issuing its guidelines to address their relevance for specific sub-populations and to reinforce its commitment to eliminating health disparities. It's an involved multi-step process that includes: Developing research plans and conducting evidence reviews that include diverse populations; using the available evidence to develop recommendations that are relevant to specific populations whenever possible; and then communicating about any evidence related to subpopulations both in the recommendation statement itself and in conjunction with partner organizations.
It also brings context to the USPSTF's steps by including recent guidelines as examples, including on mammography screenings and other highly-publicized recommendations.
"This paper represents an important expansion of the USPSTF's reputation for transparency and evidence-based conclusions that impact the diverse populations we serve" said Ann Kurth, PhD who is one of the 16 members of the USPSTF who authored the paper and the Dean of Yale School of Nursing.
You can read the full paper in the Annals of Internal Medicine.