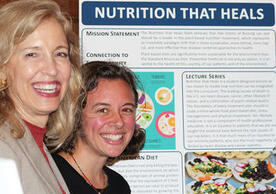 Vanessa Correia presented her work on behalf of Yale School of Nursing at the Celebrate Sustainability reception on Wednesday, October 10 as part of a weeklong series of events hosted by individuals, departments, and groups across Yale to raise awareness and deepen campus engagement around sustainability. This year's theme is Healthy Yale, Healthy Planet. Events showcase innovations and celebrate successes, while also exploring current challenges.
Vanessa Correia, RN, CLC, YSN '19, is a second year MSN student at Yale School of Nursing, who is passionate about utilizing food as medicine. She is the founder of the Nutrition that Heals lecture series at YSN. She's pictured here with Dean Ann Kurth (left) and Saveena Dhall, associate dean of Student Affairs at YSN (right).
It was while she was working in Jordan in the world's second largest refugee camp with Save the Children Fund that Vanessa became convinced that a whole food, plant-based diet is optimal for human health. Read her story here and learn more about the program she helped established at Yale School of Nursing:  A PNP student's journey into plant-based medicine: the story behind "Nutrition that Heals".