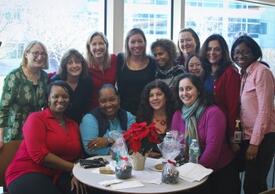 Greetings and welcome to the Yale School of Nursing. It was wonderful seeing our classrooms filled again last week as students returned to campus.
As your new dean I am thrilled to begin working with you in 2016 to achieve our mission of better health for all. A new year and a new beginning gives the chance not only to reflect on where we have been, but on how we will expand the tremendous work of high quality clinical practice, basic, translational, and applied research, and innovative advanced practice nursing education for which YSN is known and cherished.
I've had the singular opportunity to be a student, alum, and now, faculty member and dean of our wonderful school. To paraphrase Heraclitus[1], though, no one can ever step into the same river twice. This is ensured by the dynamism of our school, within the greater university that is addressing last fall's student-led inquiry into how we value and treat each other. We are all strengthened by the range of attributes each person brings to our community. The creation of YSN's new Office of Diversity and Inclusion will help us capitalize on those diverse attributes. As nurses and midwives we work within health systems that need to address health equity and achieve a more just society whether in New Haven, New Delhi, or Nairobi. The world is aging, urbanizing, and facing higher chronic disease burdens even while crises like Ebola will arise and refugees fleeing devastating conflict need health care. In all these crises and communities, nurses and midwives remain the backbone of prevention and health care.
My vision for YSN is simple – to be the best school possible for advanced practice nursing that integrates practice, education, and research. The foundation on which we stand is our passionate and driven students, faculty, and staff; alumni and supporters. We'll do this by building on the strengths of our diversity, providing exceptional education and experience for students from every background to reflect the patients and communities which we serve.
We'll stay true to and amplify the mission of YSN and the strategic planning that we will undertake this year will set the methods and metrics for doing so. Students are central to our mission and enhancing the student experience is key. Additional goals include reinvigorating our shared research and clinical practice enterprise, innovation in APRN education, showcasing the work of our faculty, and importantly making our community an even more welcoming and safe place in which to learn, work, and grow. We must increase the resources and partnerships that we need to get there.
I'm very enthusiastic and optimistic about these goals and about working together to achieve them. As always at Yale, we want to go far and to do that we need to go together. We require the energy, commitment, ideas and contributions of each and every one of you. I've been inspired already by your passion for this work, and I can't wait to hear your perspective on our shared mission.
Thank you.

Ann Kurth
1 "Ever-newer waters flow on those who step into the same rivers."