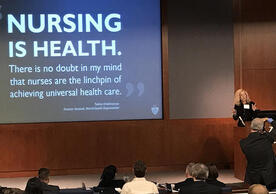 Today the Yale community celebrated the 10th anniversary of Yale's West Campus with a daylong symposium and reception. Following an introduction by Vice President Scott Strobel, directors of all the West Campus science institutes, the Yale Institute for the Preservation of Cultural Heritage, and the School of Nursing, shared overviews of the evolution and successes of their areas.
For YSN, Dean Ann Kurth spoke about the importance and impact of nursing science, highlighting the current scientific research of multiple YSN faculty. Dr. Jacquelyn Taylor, Professor of Nursing and Associate Dean of Diversity and Inclusion, spoke about her genetic research on addressing health disparities in hypertension among African Americans and West Africans.
In his introduction of Dean Kurth, Strobel commented, "West Campus reached its tipping point on the day that the School of Nursing arrived on West Campus in 2013. We almost doubled our population. That was the day when West Campus was clearly going to work."
The anniversary reception will take place this afternoon at 4:30pm in the West Campus conference center – all members of the Yale community are welcome!