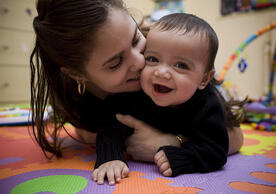 Yale University's Minding the Baby® (MTB) National Office recently entered a 6-year contract with the Danish organization Metodecentret - Center for Innovation og Metodeudvikling [Center for Innovation and Methodology] to implement the interdisciplinary home visitation program across 7 new municipalities in Denmark, beginning later this year. The A. P. Møller Foundation is funding the collaborative effort.  MTB is currently delivered to young families in Frederikshavn, Denmark, where the program is in its second year of implementation and will continue through the expansion project, along with three sites in the United Kingdom and four sites in the U.S.
MTB is a federally recognized, evidence-based, intensive home visiting model developed for first-time young families. Founded by faculty members at the Yale Child Study Center (CSC) and Yale School of Nursing (YSN) in collaboration with Fair Haven Community Health Clinic in New Haven, the model reflects a rich collaboration among perspectives in prenatal care, parenting, maternal health, infant mental health, and pediatric health.
This partnership between Metodecentret and Yale University is making MTB services available to at-risk and income constrained families living throughout Denmark. This large-scale expansion of MTB will help to broaden the continuum of home visiting services available in eight Danish municipalities as they work to strengthen families and promote healthy development in young children. 
"We are delighted to continue our work in Denmark," says CSC Clinical Professor and MTB Co-Founder Arietta Slade, PhD. "The needs in these Danish communities are great, and we are so thankful to be able to reach more families and provide intensive, interdisciplinary parenting support for new mothers, fathers, and their infants. We have developed a very solid evidence base for the program, and this contract allows us to develop new Danish partnerships and move into seven more communities with families in need."
The MTB intervention aims to improve health and development outcomes in young, vulnerable families during the transition to parenthood. Additionally, the initiative focuses on helping parents understand and manage their own stress and mental health needs, while also learning to interpret and understand their baby. This parental competence leads to healthier families across a number of physical and mental health outcomes.
Currently, MTB services are offered to a small number of families in New Haven through the National Office; as well as through replication projects in Norwalk and Stamford, Connecticut and at Florida State University's Young Parents Project in Miami, Florida. MTB services are also offered to families through replication in areas of Scotland and England.
Minding the Baby® (MTB) began as an intensive home visiting model for first-time young mothers and their families, initially developed in New Haven, Connecticut in 2002. The interdisciplinary intervention brings together a home visiting team including a registered nurse and a licensed clinical social worker to promote positive health, mental health, life course, and attachment outcomes in babies, mothers, and their families. Based out of the MTB National Office in New Haven, MTB clinicians provide direct service for young families while Yale research staff conduct research and program evaluation. The MTB National Office is led by faculty and staff at the Yale Child Study Center and Yale School of Nursing. MTB model developers Arietta Slade, PhD and Lois Sadler, PhD, RN, FAAN are eager for the model to have a wider impact in Connecticut and beyond, providing lasting benefits to multiple generations of families. For more information, please visit www.mtb.yale.edu.
Metodecentret [the method center] develops and implements social programs in Denmark. The method center is a member organization for Danish municipalities and regions, with a focus on contributing to social quality while making the best use of resources. Together with the municipalities, method center staff members try out new ideas, share their experiences and knowledge with each other, and implement effective programs to better the lives of marginalized Danish children, families, and adults. For more information, please visit http://metodecentret.dk/.