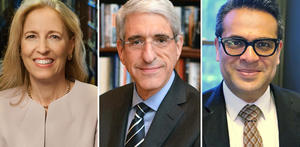 Yale School of Nursing Dean Ann Kurth (left) and Saad Omer (right), director of the Yale Institute for Global Health and adjunct professor nursing, joined Yale University President Peter Salovey (center) for the fourth episode of Yale Talkin a conversation about COVID-19 response and the immediate and long-term impacts of this pandemic. Click here to listen to the podcast.
Dean Kurth addressed how New Haven and surrounding communities are preparing for the surge of health care needs; lessons and best practices learned from colleagues in other countries; and what her experience with past health crises and epidemics can teach us about communication and evidence-based advice during COVID-19. Dr. Omer discussed how basic research has played a key role in the rapid progress between the discovery of the disease to phase 1 clinical trials of vaccines in humans. He also talked about the ways in which countries are sharing research, data, approaches, and results and how we approach pandemic preparedness in the future.
Yale Talk is a podcast hosted by President Peter Salovey. About once a month, he shares news from campus or hosts faculty, students, staff, or alumni for a conversation. You can subscribe to Yale Talk using apps such as Apple Podcasts, Google Play, Spotify, SoundCloud, and Stitcher. Transcripts of recordings will also be available online.