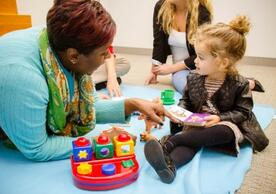 Written by Rachel Erin Horsting and Megan Veenema Smith
Minding the Baby® (MTB), a community-based home visiting intervention developed at Yale University for young families in New Haven, has been awarded a three-year grant from the W.K. Kellogg Foundation (WKKF). The goal is to support infrastructure development and national expansion of the MTB model in order to improve health and development outcomes in young, vulnerable families during the transition to parenthood.
MTB is a federally recognized, evidence-based, intensive home visiting model for first-time young families. Founded by faculty members at the Yale Child Study Center and Yale School of Nursing (YSN) in collaboration with Fair Haven Community Health Clinic in New Haven, the model reflects a rich collaboration among perspectives in prenatal care, parenting, maternal health, infant mental health, and pediatric health.
Lois Sadler, PhD, RN, PNP-BC, FAAN, Professor at YSN and MTB co-director, says that the strength of the partnership is that it "allows us to be more comprehensive. It's a model that's been developed to meet many of the varying needs in first-time early parenthood." It focuses on helping parents understand and manage their own stress and mental health needs, while also learning to interpret and understand their baby. This parental competence leads to healthier families across a number of physical and mental health outcomes.
The WKKF grant will support MTB in strategic planning, national office development, and multimedia training expansion, including an evaluative component involving quality assurance and program fidelity.
According to MTB Program Director Crista Marchesseault, the training expansion will build off of MTB's current annual summer institute, which will be offered in New Haven this July and provides an introduction to the model's constructs, techniques, and approaches. The goal is to develop "a variety of training offerings in order to reach a greater number of professionals, families, and communities." Multimedia components will also be created, with the aim of significantly extending MTB's reach.
The grant's significance extends beyond bringing a single program to more communities, in that the goal is to develop the infrastructure and materials necessary to disseminate the model via a menu of services, including full and partial replications as well as comprehensive training in MTB principles for a wide array of professionals.
"There is so much need among young, first-time parents for caring, interdisciplinary, reflective parenting services," says Sadler. "We are very grateful to the Kellogg Foundation for the opportunity to take this evidence-based model and grow the program in order to reach more communities and families who can benefit from our methods."
Minding the Baby® is led by faculty at the Yale Child Study Center and Yale School of Nursing. Co-Directors Lois Sadler, PhD, RN, PNP-BC, FAAN; Arietta Slade, PhD; Nancy Close, PhD; and Linda Mayes, MD, are eager for the model to have a wider impact in Connecticut and beyond, providing lasting benefits to multiple generations of families nationwide. For more information, please visit www.mtb.yale.edu.
The W.K. Kellogg Foundation (WKKF), founded in 1930 as an independent, private foundation by breakfast cereal pioneer, Will Keith Kellogg, is among the largest philanthropic foundations in the United States. Guided by the belief that all children should have an equal opportunity to thrive, WKKF works with communities to create conditions for vulnerable children so they can realize their full potential in school, work, and life. The Kellogg Foundation is based in Battle Creek, Michigan, and works throughout the United States and internationally, as well as with sovereign tribes. Special emphasis is paid to priority places where there are high concentrations of poverty and where children face significant barriers to success. WKKF priority places in the U.S. are in Michigan, Mississippi, New Mexico, and New Orleans; and internationally, are in Mexico and Haiti. For more information, visit www.wkkf.org.
Photo by Ashley Abel.