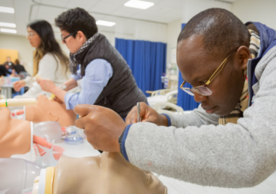 Yale School of Nursing ranks sixth in the world, per the QS World University Rankings in nursing. Of the top ten schools of nursing in the listing, half are United States (US) schools. The QS ranking system uses six metrics: academic reputation; employer reputation; faculty/student ratio; citations per faculty; international faculty ratio; and international student ratio. The highest weighting is given to academic reputation. QS rankings look at schools across the globe, and among schools based in the US, YSN ranked fourth. 
"It is especially fitting in the Year of the Nurse and the Midwife that YSN, one of the world's first academically-based nursing schools and earliest midwifery programs, be recognized in this way," said Dean Ann Kurth '90 MSN, PhD, CNM, MPH, FAAN. "We are proud to maintain a top-ten ranking in the QS World Rankings, reflecting our commitment to addressing urgent health needs across the globe."
YSN leverages innovative approaches like clinical simulation, including for disaster planning, research, and evidence-based practice to prepare our students not just to be practitioners or scientists, but to be leaders in health. "YSN is proud of our academic rigor and the contributions our faculty make daily to practice, education, and research," said Kurth. YSN students, faculty, and graduates have an outsized impact, and this responsibility, built on the quality of Yale Nursing faculty, students, and graduates, opens doors for improved health around the globe.