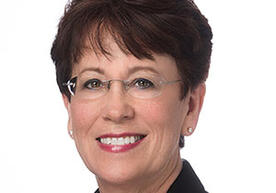 Yale School of Nursing's Nancy Schmieder Redeker, Beatrice Renfield Term Professor of Nursing, has been awarded the prestigious Sigma Theta Tau International (STTI) International Nurse Researcher Hall of Fame Award. 
The award recognizes nurse researchers who "have achieved significant and sustained national or international recognition and whose research has improved the profession and the people it serves." Dr. Redeker's leadership and scientific innovation in the area of sleep-related research is globally recognized and her book, Sleep Disorders and Sleep Promotion in Nursing Practice was the first text focused on the incorporation of scientific evidence on sleep into nursing practice settings and is a winner of the AJN Book of the Year Award.
Dr. Redeker, who also serves as the director of YSN's Biobehavioral Laboratory, is one of only 23 nurse scientists and researchers being honored with this award.
In a statement announcing the awards, STTI President Cathy Catrambone said, "Congratulations to these 23 individuals for their incredible combined contribution to global health and the future of nursing." 
Dr. Redeker will be presented with the award during the 28th Annual Nursing Research Congress in Dublin, Ireland this July.