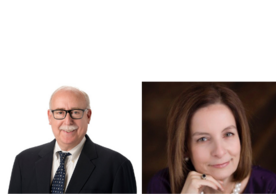 Yale School of Nursing (YSN) Associate Dean for Research David Vlahov PhD, R.N., FAAN and YSN alumna Cheryl Tatano Beck'72 MSN, DNSc, CNM, FAAN will be inducted into the prestigious Sigma Theta Tau International Honor Society of Nursing (Sigma) International Nurse Researcher Hall of Fame this summer.
We are thrilled to celebrate this honor with David and Cheryl," said YSN Dean Ann Kurth'90 MSN, PhD, CNM, MPH, FAAN. "Sigma is recognizing their many outstanding research contributions to their respective fields, and the entire YSN community extends our congratulations to both of them."
In addition to serving as an associate dean, Vlahov is the PhD program director and holds a joint appointment in Epidemiology and Public Health. His research centers on advancing health in urban settings, and he was the founding president of the International Society for Urban Health.
Beck is a Board of Trustees Distinguished Professor of Nursing at the University of Connecticut School of Nursing, and her research focuses on postpartum depression and PTSD due to childbirth. YSN previously recognized Beck's contributions to the field with the Distinguished Alumni Award in 1999.
The ceremony will take place at the 30th International Nursing Research Congress on July 27 in Calgary, Alberta, Canada. Vlahov, Beck, and the other 21 inductees will be presented with their awards and participate in a moderated panel discussion. 
This year represents Sigma's 10th presentation of the International Nurse Researcher Hall of Fame. The 2019 inductees will join the 176 previously inducted nurse researchers who have achieved significant and sustained national or international recognition and whose research has improved the profession and the people it serves. 
Founded in 1922, Sigma is a nonprofit organization whose mission is advancing world health and celebrating nursing excellence in scholarship, leadership, and service. Sigma has more than 135,000 active members in more than 90 countries and territories. Members include practicing nurses, instructors, researchers, policymakers, and entrepreneurs.