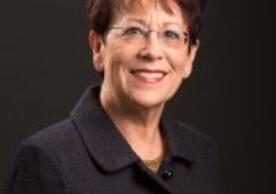 The Friends of the National Institute of Nursing Research (FNINR) recently selected Nancy Redeker, YSN's Beatrice Renfield Term Professor of Nursing, as an Ambassador to the National Institute of Nursing Research (NINR).
"I am delighted to be an Ambassador for the National Institute of Nursing Research," stated Redeker. "Nursing research has had an enormous impact on health and quality of life and will have an increasing influence in the future." 
This year, FNINR selected eight outstanding Ambassadors to join the twelve chosen in 2014. Ambassadors are selected from a national pool of applicants based on their abilities to advance public, professional, and policy-maker awareness of the critical research agenda linked to the NINR.
In a statement released on July 27, 2015, FNINR stated that the new Ambassadors will complement current efforts with their experience as scientific leaders and high impact communicators to a variety of stakeholder groups. In addition, they will further the goals of the FNINR Ambassadors Program, which includes educating Congressional leaders and others within the healthcare community and improving research funding.
"Nothing is more important than ensuring that the well-trained nurse scientists who conduct individual and team-based research have sufficient resources to impact individuals, families and communities through their programs of research," said FNINR President Michael Bleich, PhD, RN, FAAN. "The environmental, social, and political conditions that influence the health and wellbeing of all Americans are served by exquisitely prepared nurses, reflected so aptly through NINR. FNINR and our Ambassadors do this work with the health and wellbeing of the public in mind."
Redeker was selected alongside Donna McCarthy Beckett from Marquette University College of Nursing, Dianne Morrison-Beedy from the University of South Florida College of Nursing, Jean E. Davis from the Goldfarb School of Nursing at Barnes-Jewish College, Phyllis S. Hansell from Seton Hall University College of Nursing, Kathleen T. Hickey from Columbia University School of Nursing, Cheryl A. Krause-Parello from the University of Colorado (Denver), and Angela R. Starkweather from the University of Connecticut.
The FNINR is an independent, nonprofit group that advocates for and advances nursing science. It seeks to support research-based nursing practice by educating health care professionals, Congress, and other appointed and elected officials, as well as the public in general about the advances made through nursing research and its benefits to patients, families, the community