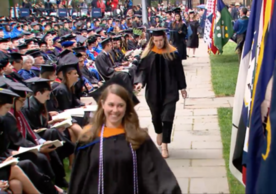 Yale School of Nursing held its 91st commencement ceremony on Monday, conferring 89 Master degrees, 15 Doctor of Nursing Practice (DNP) degrees, and one PhD (three other PhD students graduated in December).
Following the University-wide ceremony on Old Campus, students, faculty, friends and family gathered at the Shubert Theater in New Haven to see YSN graduates be awarded their well-deserved and hard-earned diplomas.
Josephine Ensign, author of "Catching Homelessness: A Nurse's Story of Falling Through the Safety Net" and University of Washington professor, delivered the commencement address.
Her remarks titled, "Radical Nursing," were as inspirational as they were grounded.  Reminding graduates that while society still holds fast to the Florence Nightingale archetype, "nurses are flesh and blood people. Nurses are not supernatural beings." Ensign went on to explain that nurses need to remember that to be a "radical nurse" they need to employ "radical self-care."
Ensign concluded her remarks, noting that "Yale School of Nursing may be small, but its graduates have an outsized impact on health systems, here in the US, around the world, and even on planetary health."
Dr. Ensign's speech was followed by very personal and touching remarks by newly minted, DNP, Kofi Bonnie who received his YSN doctoral hood at a ceremony on Sunday. The story of his journey from Ghana to becoming a Yale graduate was a moving reminder that success is built on more than a foundation of personal conviction but can only be achieved with support from others, "It is grace, an undeserved favor, that I experienced and received from others which gave me the opportunity to serve others," he said.
Dean Ann Kurth delivered the ceremony's opening remarks and presented a number of awards which included The Annie W. Goodrich Award for Excellence in Teaching, presented to Dena Schulman-Green; the D.A.I.S.Y. Faculty Award, presented to Allison Cable '01; the Charles King Memorial Prize, presented to David Collett; the Anthony DiGuida Delta Mu Research Prize, presented to Shelli Feder; and the Leadership in Nursing Practice Prize, presented to Kofi Bonnie.