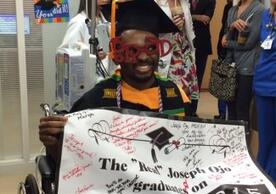 A short week after the School's 2015 Commencement ceremony, YSN received news that Nursing Management, Policy, and Leadership (NMPL) student Joseph Ojo '15 passed away. The news brought great sadness to many at the School, especially those who worked closely with Ojo.
In an email to the YSN community, Dean Margaret Grey stated, "I know you all share in mourning the loss of this very promising young man." Promising is just the beginning of Ojo's abilities, both as a nurse and as an individual. 
Ojo and his parents moved to the United States from Nigeria when he was a teenager. After receiving his BSN from the University of Cincinnati, Ojo worked in cardiac telemetry in Cincinnati, where he developed his technology and patient care skills, as well as developed professional relationships.
"From the first encounter, it was very clear that Joseph was an amazing young man with a vision of helping to create a better future for nurses worldwide and especially for nurses in his home country of Nigeria," said Patricia Ryan-Krause, associate professor of nursing and clinical coordinator at the Center for International Nursing Scholarship and Education at YSN. Ryan-Krause explained that Ojo became an active participant in the Topics in Global Health course at Yale Medical School and the World Christianity course at Yale Divinity School.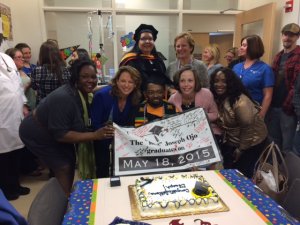 A common theme found in those who speak about Ojo is his optimism despite his diagnosis. "Joseph was the quintessential optimist," stated Emily Weigel '15, a classmate of Ojo's. "He often said he would find a way to solve world hunger. The funny thing was, due to his positivity, drive and intelligence, after three years of working with J, we really began to believe he would make a major impact."
After his diagnosis, Ojo continued to plan how to make his dreams for improving health and the role of nursing come true. While he recognized the seriousness of his condition, he was confident that he or others after him would work to actualize his dreams.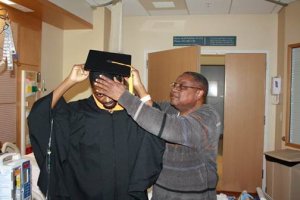 As part of his studies at YSN, Ojo was working on a health education video on the signs, symptoms, and diagnosis of a form of kidney cancer diagnosed in young and otherwise healthy African men.
"He was a sweet spirit with a warrior's heart," stated Suselle Goubourn, administrative assistant in the Office of Admissions and Student Affairs. Goubourn and colleague Fredericka Grant, a senior administrative assistant in the same department, came to know Ojo very well. "We met him before he got here to YSN. We got to know his number by heart and took turns answering the phone," said Goubourn. "He was so passionate about being able to take what he learned and make a real global impact. He wanted to start in Nigeria and affect change in health care systems from the ground up."
As time passed after his diagnosis, it became clear that Ojo would not be able to attend the official graduation ceremony at YSN. So, several of the School's faculty and staff hosted a small ceremony to recognize Ojo's successful completion of all the requirements for his NMPL degree, which entitled him to receive the degree on May 18with the University. The ceremony was held in his hospital room with his nurses and doctors in attendance. 
Ojo died on May 27, 2015, at his home in Ohio surrounded by his parents.
Some faculty and staff shared their thoughts about Ojo after his passing:
"The loss of Joseph with his great warmth, his deep faith, and his global vision was a personal loss for many of us who tried to support him on this journey. It was also a loss to the Yale community, to the community of nursing, and to the global community to which Joseph was so committed. We can honor him by continuing his work to improve nursing and improve the lives and health of all." – Patricia Ryan-Krause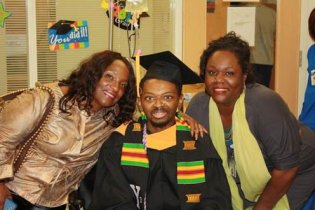 "Throughout his battle he was a faithful, God-fearing man. He attended church with me [Goubourn] until he just couldn't. We were so proud of him, honored to bestow on him his African Kente Cloth from the Yale African American Affinity Group, to dress him in his Delta Mu honor cords, and to be a part of his Commencement celebration. He was funny, personable, smart and wise, and so we were honored to call him our friend." – Suselle Goubourn and Fredericka Grant 
"Everything about J made you want to be on his team – he made believers out of skeptics on policy and leadership issues – especially issues that involved global health. Throughout his time in the NMPL program, we had the privilege of watching his transformation from primarily a person with ideas to a leader who developed tangible steps on how to make those ideas come to life. Even after his diagnosis he sought the silver lining with a practical approach. We will miss him greatly." – Emily Weigel '15
"Joseph was an eager student and took advantage of the many learning opportunities while at Yale. His first NMPL clinical was at Yale's Global Health Leadership Institute (GHLI), where he researched and wrote a paper that compared the World Health Organization (WHO) Chief Nurse model with the structure in four developing countries – Ghana, Liberia, Botswana, and China. His interest in the nursing profession and his Yale GHLI contacts provided insights into the WHO vision and the challenges in nations with varied nursing education and regulatory status." – Judy Kunisch, lecturer in nursing