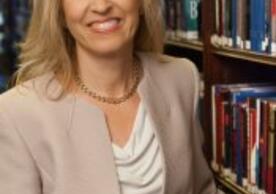 On Wednesday, September 16, 2015, YSN Dean Designate Ann Kurth, PhD, RN, MPH, FAAN, moderated a Yale School of Management Leaders Forum with U.S. Surgeon General Vivek Murthy, MD, MBA. Kurth and Murthy discussed some of the nation's health programs, global health and the impact the U.S. can have on it, and how and why Murthy came to be the U.S. Surgeon General.
Watch the forum in its entirety here.
Murthy, whose father was a physician and mother worked at his father's practice, understood the importance of health and health care at a young age, and credits his childhood as a significant influence on his career trajectory.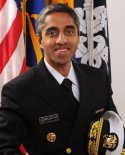 During the forum, Murthy explained that health begins with the individual and that we each play a key role in our own health. "What concerns me is the sense that I get from many that they have lost faith in their ability to improve their health," he said. "They feel that forces beyond their control are increasingly determining their health." Many of Murthy's proposed programs and changes address this issue by providing resources to healthy food and health education. He hopes to create a nation where everyone has an equal opportunity for good health. 
The Surgeon General's office is currently promoting walking and walkable communities through its Step it Up! program. The program calls on Americans to be more physically active through walking, thereby significantly reducing the risk of chronic disease and premature death and supporting positive mental health and healthy aging. "My goal as Surgeon General is to build a culture of [disease] prevention in America," said Murthy. "That is the culture that our country deserves."
Following Kurth's conversation with Murthy, there was an opportunity for questions from the audience. One question was posed by a YSN graduate, Helen MacGregor '15, who inquired about the state of physical and mental health care in the nation's federal prisons.
Murthy is a graduate of Yale School of Medicine and Yale School of Management (2003).
The Forum was part of the Yale School of Public Health's (YSPH) Milbank Lecture Series. The Series' centennial year seven-part series recognizes YSPH's significant contribution to the understanding of public health as well as the Milbank Memorial Fund's tradition of forward-looking public health initiatives.