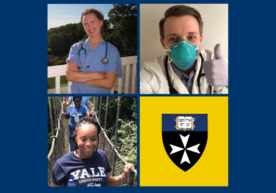 Thank you to the many YSN alumni and friends who helped us exceed our $165,000 goal for the 
2019-2020 Annual Fund campaign! These funds will address critical current needs, such as increased financial aid and enhanced resources for teaching and research. 
Surpassing our goal wouldn't have been possible without the tireless engagement of our Annual Fund alumni volunteers. This team solicits a group of classmates each fiscal year, through the help of a dedicated staff member and volunteer management system. Alumni volunteers enjoy networking with each other and attending Yale's annual Assembly & Convocation for an inside look at the university. The event also provides and opportunity to focus on building leadership and fundraising skills. This year's Assembly & Convocation will be held virtually, with monthly programs all year long.
If you are interested in helping to advance the YSN mission, contact Program Manager of Annual Giving and Alumni Affairs Charlyn Paradis for more information about becoming an Annual Fund volunteer.
As we prepare for an unprecedented 2020-2021 academic year, we recommit ourselves to supporting the next generation of providers, researchers, entrepreneurs, and leaders. 
The world is calling. Your gift helps us answer.