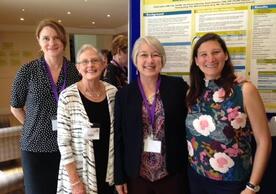 Several faculty members and a PhD student from YSN recently participated in the 12th International Normal Labor & Birth Research Conference in Grange-Over-Sands in the English Lake District. Professors Holly Kennedy, Cecilia Jevitt, and Michelle Telfer – as well as PhD student, Bridget Basile Ibrahim – each presented on topics relating to their research.
Holly Kennedy presented a workshop on "Asking different questions: moving forward on research priorities to improve maternal and newborn health" and also presented a poster highlighting "The use of video-calls in early labor care: exploring midwives' views of the potential benefits and challenges" (along with University of Nottingham & Baylor University colleagues). Cecilia Jevitt's poster, presented on "Promoting physiologic birth in birth centers for women with obese BMIs", won the top scientific prize for her analysis of a national dataset of high BMI women giving birth at birth centers. Michelle Telfer gave a podium presentation on  "Safely reducing early labor admissions and supporting physiologic birth through evidence-based bundles", while Bridget Basile Ibrahim's poster presented "Women's experiences of vaginal birth after cesarean section: an integrative review exploring nonmedical factors influencing access to care".
This annual conference brings together researchers from around the world with the purpose of disseminating research and facilitating dialogue about knowledge that supports normal labor and birth practice.