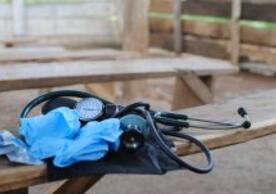 YSN midwifery student Katie Temes '17 shared an experience she had during her RN year at Yale. We're proud of Katie and our other Yale nurses who go above and beyond their call of duty, whether at work or not.
—
As a new year at YSN begins and students return to New Haven, I have been thinking about a pivotal experience I had last year while I was finishing my RN year. It was a Sunday morning and as I was leaving my apartment, I heard the groans of a man from around the corner. Curious and concerned, I cautiously walked over to make sure everything was OK. I found an elderly man - disoriented and disheveled -struggling to walk with a cane. He appeared not to have showered in several days, and carried his belongings in a plastic bag. I recognized the bag as the sort that patients are given at Yale New Haven Hospital, the hospital I had been training in all year. As I pieced together what was in front of me, I concluded that this man must have recently been discharged from the hospital and likely didn't have anywhere to go.
As a future nurse, I wondered what my role was. How could I care for a patient like this in the hospital and then witness his suffering in the street without taking action? Becoming a nurse has asked of me to not only care for patients in the hospital, but understand the systems and social structures they arrive from and are discharged to. The way that I have learned to care for people is not limited by the setting of the hospital; working in the community feels just as important. That day, I ended up bringing the man to a church with a shelter, on his request. Just as I was getting him settled in the car, a neighbor emerged from his house, and asked if we needed any assistance. "We do!" I replied, gratefully. The neighbor and his wife piled into the car and together, the group of us drove the elderly man to the church.
New Haven is a community with an economically divided population. Many of the patients who frequent the hospital are underserved, with few resources to support the kind of healthy lifestyle needed to avoid chronic disease. As a nurse and student living here, I feel that it is my responsibility to understand the community with which I work, not only in the capacity of a nurse at the hospital, but also as a caregiver in the community that I share with those I care for.