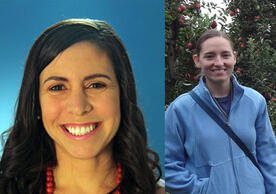 Two Yale School of Nursing PhD students have been selected to present to the Lawrence S. Bloomberg Faculty of Nursing Emerging Scholars Forum in recognition of their early-career research and leadership.
Graduating PhD student, Shelli Feder, will be presenting on her research topic "Demographic and Clinical Determinants of Palliative Care in HIV-Infected and Uninfected Adults Hospitalized with Heart Failure."
[Feder was recently the subject of a YSN Student Spotlight video]
The research of first year post-doctoral fellow, Samantha Conley, is titled "Symptom Clusters in Adults with Inflammatory Bowel Disease."
Both Feder and Conley were selected by a peer review application process from a pool of international candidates representing top-ranked nursing universities across the globe. According to the Forum, preference was given to candidates "whose research and academic interests focus on public health (the health of individuals, groups or populations), health systems and/or improvement of care/outcomes."
"That two of our students were chosen as recipients of this highly-prestigious scholarship speaks to the academic rigor of the program here at YSN and I am proud of both of these outstanding researchers," said YSN PhD Program Director, Robin Whittemore, PhD, APRN, FAAN.
The two-day forum will take place in Toronto, Canada this May.