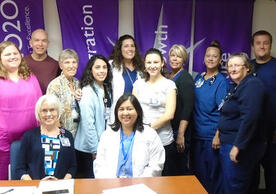 A YSN-trained Critical Care Nurse responds to Hurricane Harvey
CHRISTUS Santa Rosa Hospital in New Braunfels in the Texas hill country, is a Catholic, not-for-profit, faith-community based ministry, with 132 licensed beds, providing a wide variety of services. Jenny Rendon is its Critical Care Nurse Practitioner and a first-year student in the Doctor of Nursing Practice Program at Yale School of Nursing. 
A few months ago, the hospital found itself facing circumstances that would have challenged even the largest of health care facilities.  Hurricane Harvey made landfall on the Texas coast. Hospitals within the storm zone were forced to evacuate their patients and the CHRISTUS Santa Rosa Health System was tasked with assisting with the evacuations and patient transfers. With hindsight, Jenny shared some of her reflections of the time:
"Our nurses demonstrated outstanding leadership, serving as Hospital Incident Command System members, in addition to maintaining their everyday leadership positions. During the height of the storm, nurses slept on-site to facilitate patient transfers and converted private rooms to double occupancy rooms to be able to accept more patients.  Everyone stayed late or came in for unscheduled shifts to staff the units, and the Chief Nurse Executive served as the Incident Commander. The entire hospital staff rose to the occasion. As an Advanced Practice Nurse Practitioner, I can't help but feel proud to work with these exceptional nurse leaders."
Photo: Jenny Rendon (wearing lab coat in the front row) with  the Joint Nursing Council  of the CHRISTUS Santa Rosa New Braunfels Facility.