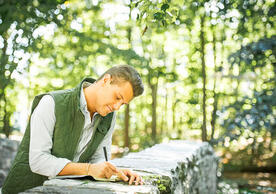 The winners of YSN's annual Creative Writing Awards have been announced. Chimene Diomi (Psychiatric/Mental Health '17), Jessica Kelly-Hauser (Acute Care '18), and Elizabeth Renker (Pediatrics '19) will be recognized for their winning entries and receive 1000 dollars each at a ceremony to be held on April 27. 
All YSN students are encouraged to keep a journal to chronicle their first clinical experiences and their overall journeys toward becoming advanced practice nurses. The awards, now in their fourteenth year, are in recognition of the narrative excellence that comes from those student journals.
Read more details about the awards and this year's winners, including short excerpts of the winning entries, in the New Haven Register.