This summer, Yale School of Nursing hosted 100 students as part of the National Student Leadership Conferences' (NSLC) first-ever nursing program. During the program, students were provided insight into the careers available in the nursing field, an overview of the type of curriculum graduate nursing school offers, and discussed the most pressing issues facing nursing and nurses today.
As the Baby Boomers age and the need for health care grows, and in combination with healthcare reform, the United States is expected to experience a shortage of nurses. NSLC's summer nursing program for high school students is an opportunity to inform the brightest young students about the value of, and the opportunities available through, graduate-level nursing education.
"The experience of being involved in the development and execution of the NSLC nursing program has been transformational for me," stated Lecturer and Director of the Simulation Laboratory Ginger Sherrick. "It has provided an opportunity for me to connect with future nurses on a new level. I have worked with nursing students from associate through graduate level programs for many years but the enthusiasm and inquisitive nature from the high school students was rejuvenating."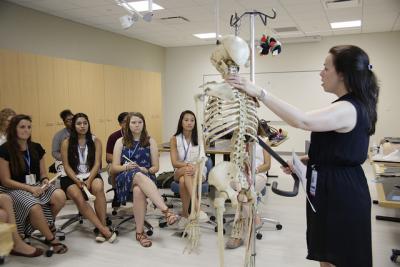 The program engaged students in the three domains of learning: cognitive, affective, and psychomotor. Students learned how to take vital signs and complete a physical assessment, but also learned therapeutic communication techniques, EKG interpretation, airway intubation, medication administration, IV insertion, PPE/safety, and more.
Students were exposed to various programs developed by YSN faculty, including Looking is Not Seeing, an educational experience at the Yale University British Art Museum taught to YSN students as a method of enhancing observational skills. In addition, students toured the West Campus Urban Farm, part of the Yale Landscape Lab utilized by YSN GEPN students as a means of connecting themselves with their patients, and developing their understanding of the relationship between health and healthy foods.
"Being part of the inaugural National Student Leadership Conference here at YSN has been a rewarding and enriching experience for me as an advanced practice nurse and nurse educator," explained Phil Martinez, YSN lecturer and the Graduate Entry Prespecialty in Nursing (GEPN) program director. "These students are afforded a unique glimpse into the nursing profession by utilizing kinesthetic training with YSN faculty that simulates the real world conditions in which we as nurses and nurse practitioners practice in every day."
NSLC implemented its Yale programs in the summer of 2014 under the leadership of Nate Silver, NSLC site director, and offers programs in engineering, business and entrepreneurship, acting intensive, law and advocacy, and environmental science and sustainability. "The NSLC enables students to explore a career, experience college life and degree programs, acquire new leadership skills, make new friends, meet with leading professionals and experts, visit prominent organizations, and tour new cities," explained Silver.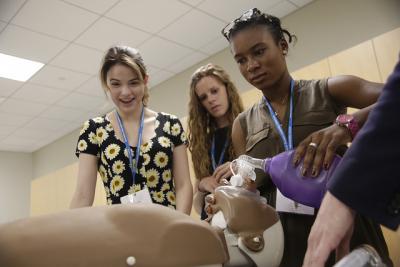 Looking to expand its summer offerings at Yale, NSLC initiated conversations with YSN to establish the first-ever nursing summer program. In collaboration with YSN Executive Deputy Dean Holly Powell Kennedy, Sherrick, and Martinez, the group developed an age-appropriate curriculum including simulations and lab experiences. In addition to the hands-on experiences, students were presented information on various nursing careers that are not in direct patient care, but are an invaluable piece of the nursing profession, like nurse educators, nurse researchers, and health policy analysts.
"Being that Yale is such a prestigious University, the administration of the NSLC is privileged to be able to implement the nursing program at a desirable location that fosters such wonderful academic growth and achievement," stated Amy Bronick, NSLC nursing program director. "We hope to emulate YSN's mission of 'better health for all people' by preparing high school students interested in the nursing profession with information specific to the roles and responsibilities of nurses, as well as providing leadership activities that will promote self-discovery and empower our students to develop as leaders in the nursing field."
The nursing program included two sets of three-day intensives for groups of 50 students at a time. The typical NSLC student is a rising junior or senior exploring college opportunities, has a wide range of interests and life experiences, and is academically oriented. Students hail from across the country and around the world.
Some students reflect on their experience at YSN for the NSLC nursing program:
"For all the guys out there, nursing isn't just a major dedicated to girls. There are plenty of male nurses and you shouldn't be afraid to pursue a nursing career. The NSLC program really taught me about responsibility and communication."
"It was a really neat experience because we got first hand exposure talking to nurse practitioners, as well as students that are in the field and learning themselves. Overall, it was a great experience."
"The thing about this program is that they are real with you. They tell you how it is and they have real people telling you about their day-to-day lives. It really does give you an insight into what nursing is like and I love it."
"My favorite part of going to the nursing program at Yale was seeing the lungs of a smoker versus non-smoker. That was very eye-opening."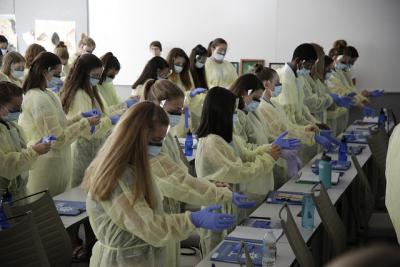 "I am looking forward to continuing the partnership that we have established with NSLC and I envision this summer camp becoming a part of the YSN culture of looking to the future," explained Sherrick.
Since 1989, the National Student Leadership Conference has invited a select group of outstanding high school students to participate in its fast-paced, high-level, interactive summer sessions. Sponsored by the National Student Leadership Foundation, a 501(c)3 nonprofit, nonpartisan, education organization, the NSLC provides students with the opportunity to experience life on a college campus; develop essential leadership skills; and explore a future career through exciting simulations, exclusive site visits, and interactive meetings with renowned leaders in their chosen field.
View several YouTube videos about this inaugural nursing program at YSN:
Photos courtesy of NSLC and Taryn Lahey.