Ramón Lavandero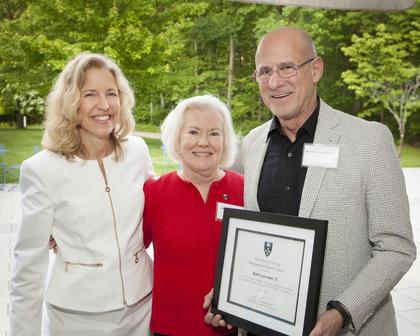 Ramón is a 1979 graduate of what we would now call the acute care clinical nurse specialist program.
He has served the YSN Alumnae/i Association as a board member and as president in 2005. He also served the school for seven years as a member of the dean's External Advisory Board. And as an adjunct faculty member.
Six years ago, Ramón brought the DAISY Foundation Faculty Award to YSN. The award has become a commencement tradition for students to recognize a faculty member's commitment and inspirational influence. His annual gift continues to fund this award.
Ramón's professional career has focused on acute and critical care— with clinical, academic and administrative roles in academic healthcare institutions on both coasts and in the Midwest.
For more than 20 years he was a Senior Director on the national staff of the American Association of Critical-Care Nurses. Last year, he became Senior Strategic Advisor and Organizational Historian for AACN. One of his new responsibilities is to establish AACN's historical archives at the University of Pennsylvania's Barbara Bates Center for Nursing History.
At AACN, Ramón coauthored the association's landmark standards for establishing and sustaining healthy work environments that were first released in 2005. He has been a coinvestigator for four national studies about critical care work environments and a study of empowerment and specialty certification for nurses.
Ramón is from San Juan, Puerto Rico, and was the first nurse to participate in the Hispanic Leadership Fellows program sponsored by the New Jersey Department of Higher Education, the Woodrow Wilson Foundation and the American Council.
He was the founding director of the International Leadership Institute of Sigma Theta Tau, the honor society of nursing. And he has consulted with nurses and health professionals in the United States, Latin America and the former Soviet Union.
Ramón is a fellow of the American Academy of Nursing. He's currently serving a second term on the Academy's board of directors.
At the time of YSN's 90th anniversary, Ramón was honored as one of our "90 Nurses for 90 Years." He is a distinguished alumnus of Columbia University School of Nursing and has been selected for the Teachers College "Nursing Education Hall of Fame" at Columbia.
The Yale School of Nursing Alumnae/i Association proudly claims Ramón Lavandero as a distinguished alumnus.