Rose Nanyonga Clarke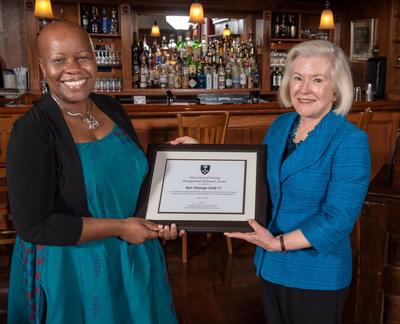 Rose Nanyonga Clarke, PhD '15, a well-established healthcare leader, is Clarke International University's Vice Chancellor, a university in Uganda. She has served as both the Deputy Vice Chancellor and Acting Vice Chancellor. She also holds a Senior Faculty position at CIU, teaching Health Policy and Planning as well as Advanced Strategic Management.
Dr. Nanyonga received her undergraduate degree in Nursing from Arkansas Tech University, earned a MSN from Baylor University then went on to earn her PhD in Nursing from Yale University, where she was a Jonas Scholar, and a Graduate Certificate of Concentration in Global Health. Her PhD work looked at: Leadership, Followership and the Context; an Integrative Examination of Nursing Leadership in Uganda.
Dr. Nanyonga has worked as the Director of Nursing Services for International Medical Group (IMG), a leading and largest private health system in Uganda, and was instrumental in helping Dr. Clarke establish the International Hospital Kampala School of Nursing which formed the first faculty in CIU. She then worked as the Director of Clinical Services and Senior Manager for IMG, managing clinical operations for the hospital and all associated service centers while maintaining an active role in teaching, public speaking and advocacy.
In 2009, Dr. Nanyonga pioneered a grassroots campaign to end child sacrifice and crimes associated with ritualistic child sacrifice in Uganda. She has continued to be an avid advocate for change in this area and continues to lobby for appropriate dialog and laws to address practices and crimes related to child sacrifice.  
Dr. Nanyonga holds several public speaking engagements as an inspirational and motivational speaker. She is particularly interested in dialog on transformational leadership, growing leadership capacity for future generations of healthcare providers, how current professionals can retool themselves to match the competitive and cutting edge work culture of the 21st century, and fostering leadership to transform rhetoric into action. Her leadership training series: Dream, Inspire, Enable has been instrumental in enhancing leadership skills for Senior Nursing Officers in the country. She believes that nurses are great leaders and as such, should be able to dream, inspire and enable others to achieve better results.
Dr. Nanyonga serves on several not-for profit, corporate, and advisory boards including Clarke Group; Narrow Road International Aid; The Nursing Now Campaign, Uganda Steering Committee; REMI East Africa; and The Sinza Project.
The Yale School of Nursing Alumni Association proudly claims Rose Nanyonga Clarke as a distinguished alumnus.