Terri Clark '76 BA, '79 MSN, PhD, MA, CNM, APRN, FACNM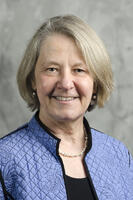 Clark was a member of the YSN midwifery class of 1979. She entered YSN with a BA in philosophy from Yale University, which she considers to be just what was needed to prepare her to be a certified nurse midwife. For Clark, having the opportunity for a Yale education brought with it the profound responsibility to benefit the society that made that education possible in the first place. Thus, for 42 years she has used her YSN nurse-midwifery education to teach in midwifery graduate programs as well as to provide full scope midwifery care in New Haven, the Bronx, and San Diego.  
In the last 21 years she has developed and worked with midwifery, nursing, and medical colleagues in many international peer-to-peer collaborative education programs. For example, she has worked directly and taught with midwives and other health care providers in South Africa, Uganda, Kenya, Rwanda, Cambodia, Afghanistan, Haiti, and Ecuador.  
Clark's PhD is in sociology from the University of California at San Diego and her scholarship and publications are focused on topics related to the development of ethical international midwifery education. She has been on the faculty of Seattle University College of Nursing since 2007 where she was also Track Lead of Midwifery.  
Finally, since graduation from YSN, Terri has been an active member of the American College of Nurse-Midwives. She has presented at their annual conferences many times and has held several leadership roles at the local, state, and national levels.