Wailua Brandman '94 MSN, APRN, PMHCNS/NP BC CHMRP, FAANP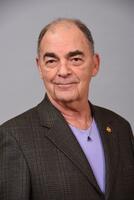 Brandman's advance practice career has included the roles of graduate and undergraduate nursing faculty at the University of Hawai`i at Manoa, clinical preceptor, consultant, leadership in health care policy, clinician, and cultural entrepreneur.  
Brandman is a certified Holographic Memory Resolution Practitioner (CHMRP) and was the first Psychiatric Mental Health Nurse Practitioners (PMHNP) in Hawai`i. He was Hawai`i's first PMHNP to become a primary care provider (PCP) in 2009, after the legislature mandated third-party payers to recognize APRNs as PCPs.  
In 2007, he co-founded the Hawai`i Association of Professional Nurses and served as the founding president. He is a co-founder of the American Psychiatric Nurses Association Hawai`i chapter and a president. He is a former member-at-large of the American Psychiatric Nurses Association Board of Directors and former member of the Board of Directors of the YSNAA. He is also a member of the Hawai`i State Center for Nursing's APRN Practice and Policy Committee.  
Brandman has been an active member of the American Association of Nurse Practitioners (AANP) since 2005, when he received the State Award of Excellence Nurse Practitioner. He has been a Fellow of the AANP since 2011. He is also the recipient of numerous awards from the Gamma Psi Chapter-at-Large of Sigma Theta Tau International Honor Society of Nursing, including the 2010 Kupono Award.  
Also an author, Brandman wrote Misery or Happiness: It's ALL About Energy, a self-help book for nurses and their patients. As the clinical director of his corporation, Ke`ena Mauliola Nele Paia, he has become an expert on bipolar disorder and serves as a consultant for Sunovion, AbbVie, and Otsuka America Pharmaceutical, Inc.