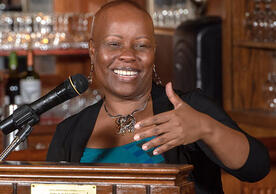 Dr. Rose Clarke Nanyonga was one of five Yale nurses to receive a Distinguished Alumnae/i Award this year, travelling all the way from Uganda to be honored at a ceremony hosted by Dean Kurth at the Yale Graduate Club in early May.
Since 1973, the Yale School of Nursing has annually recognized the work of alumnae/i who have made outstanding contributions to the fields of nursing practice, teaching, and research. Through their work or service to the community, these individuals have uniquely influenced the field of nursing. Read more about all five recipients here.
A well-established healthcare leader, Dr. Rose Clarke Nanyonga is the vice chancellor of Clarke International University (CIU) in Uganda – a new private university affiliated with a leading hospital that boasts a newborn intensive care unit and an extensive ambulance system connected to 22 clinics. YSN's Dean Ann Kurth, who recently visited the hospital in Uganda, commented that Rose "successfully manages and leads what I would argue is one of the best-run hospitals in East Africa."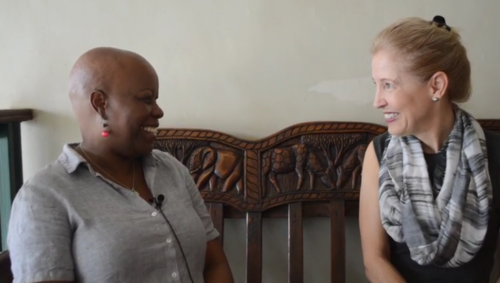 Dr. Nanyonga received her undergraduate degree in nursing from Arkansas Tech University, earned an MSN from Baylor University, then went on to earn her PhD in nursing from Yale in 2015, where she was a Jonas scholar, and a recipient of the Graduate Certificate of Concentration in Global Health. Her PhD work examined Leadership, Followership and the Context; an Integrative Examination of Nursing Leadership in Uganda. After graduation, she returned to her native Uganda to take on her role at CIU. She credits much of her success to her Yale education and experience, in particular the specific leadership insights she learned from the school's faculty.
"Our faculty pushed and challenged her, and I could say the same thing about my experience—we share a bond in the story of what Yale can do to help shape and support students and their career trajectories," said Kurth, who graduated from Yale School of Nursing in 1990. "To see how Rose has used her Yale education to have such a powerful impact on the health of her community and continent is phenomenal. It serves as the perfect example for every student at our school."
"Building a robust and sustainable corps of highly educated nurses like Rose is critical to improving healthcare in Africa," Kurth said. "Nurses managing complex care have enabled people to live longer throughout the continent. In South Africa alone, studies have shown that nurses delivering HIV care have saved hundreds of thousands of lives, she said."
In 2009, Rose pioneered a grassroots campaign to end child sacrifice and crim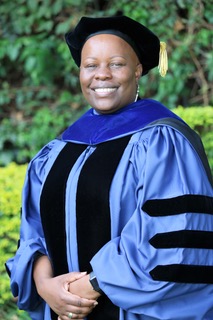 es associated with ritualistic child practices in Uganda.  She has continued to be an avid advocate for change in this area and regularly lobbies for appropriate dialog and laws to address practices and crimes related to child sacrifice.
Rose also holds several public speaking engagements as an inspirational and motivational speaker. She is particularly interested in dialog on transformational leadership, growing leadership capacity for future generations of healthcare providers, how current professionals can retool themselves to match the competitive and cutting-edge work culture of the 21st century, and fostering leadership to transform rhetoric into action. Her leadership training series: Dream, Inspire, Enable, has been instrumental in enhancing leadership skills for senior nursing officers in the country.  She believes that nurses are great leaders and as such, should be able to dream, inspire and enable others to achieve better results.