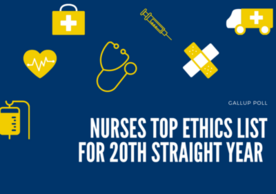 According to the latest annual Gallup rating of various professions, nurses lead the nation in ratings for honesty and ethics for the 20th consecutive year. 
Physicians are in second place by 14 points, followed by grade-school teachers, pharmacists, and military officers. More than six in 10 Americans viewed the top five as highly ethical, ranging from 61% for military officers to nurses at 81%. 
"The public recognizes nursing as the most trusted profession because of the care we take to provide the best support possible to our patients, their families, and each other," said Dean Ann Kurth '90 MSN, PhD, CNM, MPH, FAAN. 
Poll data show that after the image boost nurses, physicians, and pharmacists received during the first year of the pandemic in 2020, the numbers returned to more normal levels in 2021.
Gallup first conducted its Honesty and Ethics poll in 1976 and has updated it annually since 1990.