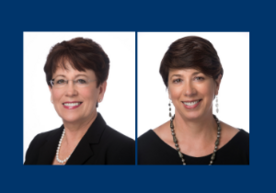 Associate Professor Julie Womack '94 MSN, '08 PhD, CNM, FNP-BC and Beatrice Renfield Term Professor of Nursing Nancy S. Redeker PhD, RN, FAHA, FAAN recently published the paper "Serious Falls in Middle‐Aged Veterans: Development and Validation of a Predictive Risk Model" in the Journal of the American Geriatrics Society. Womack served as the principal investigator.
According to the abstract, "due to high rates of multimorbidity, polypharmacy, and hazardous alcohol and opioid use, middle‐aged Veterans are at risk for serious falls (those prompting a visit with a healthcare provider), posing significant risk to their forthcoming geriatric health and quality of life." Womack and Redeker then developed and validated a predictive model of the six‐month risk of serious falls among this population of middle‐aged Veterans.
Participants in the cohort study were veterans ages 45 to 65 who had visited Veterans Affairs for care between 2012 and 2015. Womack and Redeker identified serious falls in two ways: by using external cause of injury codes and a machine‐learning algorithm that analyzed radiology reports. 
Womack and Redeker conclude that they "developed and internally validated a model to predict six‐month risk of serious falls among middle‐aged Veterans with excellent discrimination and calibration."
For more information about the study, visit the Wiley Online Library.