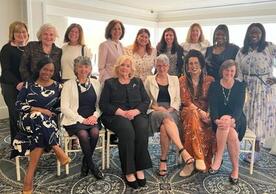 The Yale School of Nursing (YSN) community gathered on May 18 to celebrate the 43rd annual induction of new members to the Delta Mu chapter of Sigma Theta Tau International Honor Society of Nursing.
Linda Honan Youth Leader Scholarship Award
Professor Emerita Linda Honan '89 MSN, PhD, MSN, CNS-BC, RN, ANEF, FAAN was on hand to present her namesake Linda Honan Scholarship Award to two graduating high school students. Recipients must be applying for a college program in the healthcare field, and students are nominated by a current mentor or teacher.
Winners Makayla Edwards from Wilbur Cross High School and Kailey Bonilla from Hill Regional Career High School were recognized as exhibited outstanding potential for success in healthcare.
Dorothy Sexton Mentorship Award
Senior Lecturer Andrée de Lisser '79 MSN, DNP, APRN, PMHCNS-BC was presented with the Dorothy Sexton Mentorship Award. Dr. de Lisser is retiring on June 30 after 13 years at YSN. Her many years of service to Delta Mu include stints as Vice President (2017-2019) and President (2019 – 2021). 
Delta Mu Research Grant
PhD student Yan Zhan was awarded the Delta Mu Research Grant for her work. Zhan's research interests include psychosocial interventions to improve self-management and health outcomes for cancer patients, as well as palliative care and end-of-life care delivery.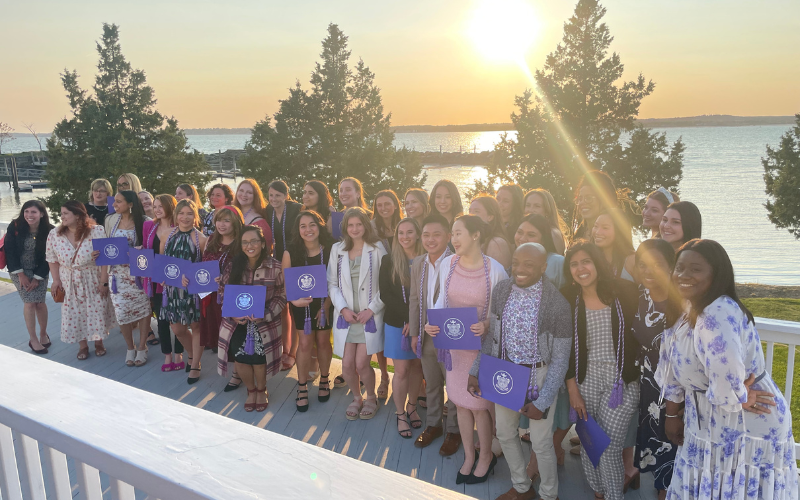 2023 Delta Mu Inductees
| | | |
| --- | --- | --- |
| Vanessa Eve Acosta | | Jennifer Mariano |
| Aria Ahmed | | Catherine G Martin |
| Pamela Ann Alvey | | Katherine Masoud |
| Grant Oscar Anderson | | Kellen McDonald |
| Stephen Alexander Baccari | | Kathleen McGovern |
| Lu Bai | | Alanna Laura McLaughlin |
| Talia Regina Brown | | Frankie Lawrence McLaurin |
| Roxana Bustamante | | Maura Leigh McManus |
| Sandra Marie Castro | | Shaylice Michelle Meserole |
| Olivia Chan | | Jeremy Michael Mills |
| Eun Gul Chung | | Grace Carpenter Mills |
| Marquirsha Michelle Claxton | | Jillian Moffett |
| Emily Criscuolo | | Rosa Jean Munson-Blatt |
| Jaclyn Elisa Davis | | Uchechi Ann Onyebuchi |
| Gabriela Annet Disla Suarez | | Elle O'Rourke |
| Katherine Aileen Duarte | | Madisen Hope Panagoulias |
| Shreen Dubey | | Christina Elizabeth Pantzer |
| Anastasia Eberhardt | | Emily Quynh Pham |
| Jacqueline Elise | | Kelly Prado |
| Emilia Firtich | | Sara Cristina Quiñones |
| Lee Fleisher | | KellyAnn Joan Rooney |
| Melissa Galinato | | Ava Salehi |
| Lorianne J Gillis | | Sam Sena Samuelson |
| Sarah Hassan | | Michaela Gabrielle Visperas Serafica |
| Denis Hawkins | | Raimy Shin |
| Danielle Therese Huseman-Maratea | | Tara Shouldis |
| Zeynep Dilan Inanoglu | | Nicole Christine Showalter |
| Isabella Bingham Johnson | | Katherine Siegel |
| Colleen Chime Karkhang | | Marsha Sinanan-Vasishta |
| Ashley Kattak | | Alyson Claire Spencer |
| Sydney Rae Katz | | Carolyn Parker Stewart |
| Lola Keene | | Andrea Tamayo |
| Ju Won Kim | | Jeremy Tang |
| Ryan Kimball | | Devin Thomas |
| Joanne Morgan King | | Lolita Sherma Tramel |
| Panicha "PK" Kittipha | | Anna Vavra |
| Maggie C Kleiman | | Natalie Rose Welch |
| Emily Scott Knowles | | Shinelle Kaiya Wilkins |
| Christine F Knudsen | | Christina Marie Wira |
| Ju Hyun Lee | | Madeleine Woodworth |
| Mark Lee | | Deniz Yetil |
| Victoria Lin | | Michelle Yuan |
| Rahael Asia Lyngdoh Rawson | | |
| Richard K Manning | | |