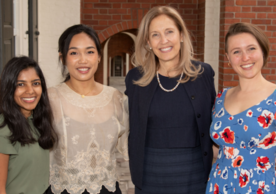 Yale School of Nursing (YSN) celebrated the humor, heartbreak, and hope of nursing at the 19th Annual Creative Writing Awards on May 5. The top three finishers each received a $1,000 cash prize: Sajni Persad '23 MSN, Michaela Gabrielle Serafica '24 MSN, and Gayelan Tietje-Ulrich '24 MSN.
Keynote speaker Beth Cavenaugh, RN, BSN, CHPN shared how writing energizes her love and passion for hospice care. She said that her writing sessions, often starting with a 4 am wakeup, help her metabolize so many of the emotionally difficult things she witnesses in her work. 
Her most recent book is "The Power and Pain of Nursing: Self-Care Practices To Protect and Replenish Compassion."
Cavenaugh's remarks elicited knowing chuckles from the audience, and described nursing with humor and compassion. She also spoke of how she'd like to reassure a wider audience about the journey at a life's end.
"I want to soften the fear that surrounds death in our culture. I want people to know what to expect when they're dying or when their family is dying. I want families to have the courage to sit at the bedside of their loved one, so that they can usher them in to the next mystery with love and blessings."  
Sajni Persad | "My Most Dearest Ruthie"
The three winning students read their work aloud.
Family Nurse Practitioner (FNP) student Persad took a top prize for her poem "My Most Dearest Ruthie," which describes tending a cancer patient in a hospice bed. It reads in part:
Being a nurse is a humbling strength
For me to sit empathetically by your bedside
Honoring these profound moments with you
Exposed to your vulnerability that you bravely shared
Exposed to your warm yet fragile hand as I held it gently
Being a nurse is a humbling strength
For me to sit attentively by your bedside
Holding back my tears 
Exposed to the reality of your health's decline
Exposed to the delicate art of consoling you and offering you comforting words
Read the full text of "My Most Dearest Ruthie."
Michaela Gabrielle Serafica | "Dancing in my Golden Terno"
Pediatric Nurse Practitioner student Serafica describes attending the school's Annie Goodrich Ball in her poem, "Dancing in my Golden Terno." The title refers to a traditional Filipino dress with large butterfly sleeves. The piece also notes that Filipino immigrants comprise 4% of the US national nursing workforce but accounted for 26.4% of COVID-related deaths in nurses in 2020. The poem reads in part:
I wonder how heavy my lola's sleeves felt
When she left the Philippines, nine kids in tow
For Watsonville, California
Serving the community hospital for decades
Her sleeves must have been seen from near and far
My mom felt the call too
Her sleeves made here in the States
Her compassion drives her nursing process
And her tenacity makes her great
She reminds me who gave me my sleeves
That I now wear on my shoulders
My matriarchs, the ones who came before me In this profession of care
Read the full text of "Dancing in my Golden Terno."
Gayelan Tietje-Ulrich | "Paperwhites"
FNP student Tietje-Ulrich's poem "Paperwhites" reminisces on the annual spring appearance of paperwhite flowers in a mason jar on the windowsill, and the woman who arranges them there. Its reads in part: 
I could not adequately prepare
for the exchange of roles –
Daughter became Mother,
Nurse became Patient.
It was a slip into eternal winter,
a season of grief that did not thaw.
Without her, the pilgrimage
for paperwhites ushers in an
end and a beginning.
It is the perennial reminder of her impact, and my own
choice to step into a profession that gently, unassumingly
carries rebirth, grief, acceptance.
Read the full text of "Paperwhites."
Honorable Mentions
Three students were also selected as Honorable Mentions: doctoral student Elizabeth Choa for "More Than," Midwifery student Taylor Evans '24 MSN for "Someone's Somebody," and FNP student Rachel Romero '22 MSN for "My Village." 
Evans was also recently tied for second place in the Prose category of the 2022 PHM Health Professions Creative Medical Writing and Art Contest, an annual celebration honoring the creative submissions of YSN, Yale School of Public Health, and Yale School of Medicine MD, Physician Associate, and Physician Assistant Online students. Explore the PHM contest and read the full text of her winning work, "A Mother's Musings."
Panel of Judges
The submissions were assessed blind by the following panel of judges: YSN Reference Librarian Dr. Janene Batten, Ed.D., Helen Varney Professor of Midwifery Dr. Holly Powell Kennedy, PhD, CNM, FACNM, FAAN, Lecturer in Nursing and Minority Student Coordinator Heather Reynolds, '80 MSN, CNM, FACNM, and Director of the Simulation Lab Dr. Christine Rodriguez, DNP, APRN, FNP-BC, MDiv, MA.
Watch the Video
To watch a full recording of the event, check out the YSN YouTube channel.