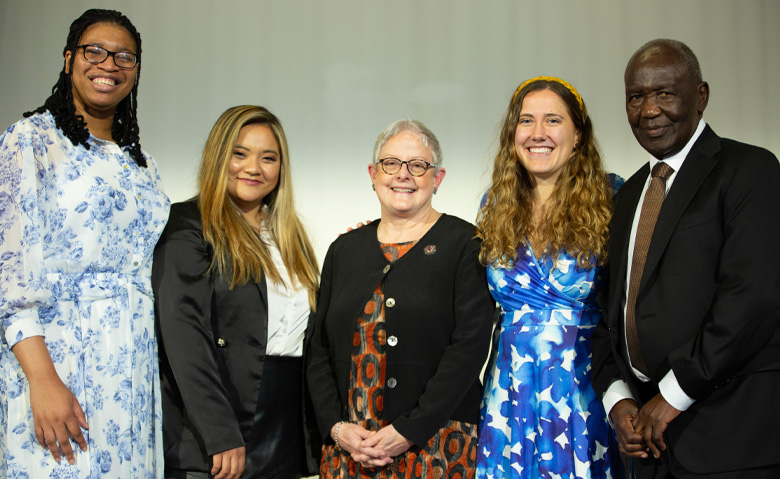 Left to right: 

honoree Anita Onuoha, honoree Kailu Shannon-Frolich, YSN Interim Dean Holly Powell Kennedy, honoree Michelle D., speaker Michael Shirima

Yale School of Nursing (YSN) students, faculty, and staff gathered on April 20 at the New Haven Lawn Club to celebrate the winners of the 20th Annual Creative Writing Awards: Michelle D. '24 MSN*, Anita Onuoha '25 MSN, and Kailu Shannon-Frolich '25 MSN.

*To protect her family member's privacy, YSN will identify this winner with her first name and last initial throughout this article.

Students across every program and specialty were invited to submit poetry or prose for consideration and were welcome to enter multiple pieces. Each winner received a $1,000 cash prize.

As Interim Dean Holly Powell Kennedy, PhD, CNM, FACNM, FAAN said at the start of the evening, writing and nursing both require skill, practice, and a little bit of bravery. Featured speaker Michael Shirima seconded the sentiment. A Tanzanian businessman, entrepreneur, and philanthropist, Shirima defined his career as significantly by the airline he established as the orphanage he founded.

"Life has given me many blessings, and I felt I could be of service to the children," he said. That service included welcoming a pair of twin girls into his own home to make room in the orphanage for additional placements. The twins thrived under his care and are now attending college in Canada.

In his autobiography "On My Father's Wings: An Entrepreneurial Journey of Finding Humility, Resiliency, and a Lasting Legacy," Shirima shared many of the lessons from his own life that also apply to nursing and midwifery. Those include the value of taking risks and observing the dignity of every person regardless of age, race, gender, or status.

"The act of telling a story heals not only our own hearts, but those who hear them," Shirima said. He ended his remarks by extending an invitation to anyone in the audience to visit and stay at the facility.

"You always have a friend to receive you, in me."
---
Michelle D. '24 MSN
Family Nurse Practitioner (FNP) student penned the winning poem "Sandstone." She beautifully describes why she chose the FNP specialty and her thoughtful care of her patients. The poem reads, in part:
When this all began, I thought back to my hospice patient, who could not remember her diagnosis or her own name.
She wanted to feel beautiful, so I sat there delicately untangling her hair with a plastic comb, She pointed at her angel doll, and then pointed back at me.
She passed during the night shift, her hair braided, her faith intact.
While I wish I had that level of faith in a god, I do have faith that other nurses will make you feel confident and safe, in the gaps where I cannot be there.
---
Anita Onuoha '25 MSN
A Pediatric Nurse Practitioner – Primary Care student, Onuoha took a top prize for her poem "Just a Little Hope." She powerfully illustrates the risks Black women take when they prepare to give birth and her role as a clinician who shares many of the same characteristics. One stanza reads:
I do the work because no one else will
I stay Woke so that I can stay alive
I Waken a system that has stayed silent while Sisters have died on operating tables and in hospitals beds
Their only sin was being Black women giving birth
I build upon the framework of the past
I change policies that allow birthing centers to be available to the underserved
I reveal the implicit biases that poison our doctors, midwives and nurses
---
Kailu Shannon-Frolich '25 MSN
Nurse Midwifery student Shannon-Frolich spoke movingly about how she personally identified with the orphans helped by Shirima's efforts. Her short story, "EDD: 12/25," uses the abbreviation for Expected Due Date:
The crisp autumn wind swirled around her, and she wrapped herself up in the warmth of the promise of memories soon to be created.
The baby's first day home – her little angel swaddled beside her.
The baby's chocolate-brown eyes and chocolate-brown skin that would match hers.
The baby's first steps, first words, first day of school.
First macaroni art project.
First skinned knee and a kiss to make it better.
Read the complete short story here.
---
Judges
A panel of four judges narrowed down the many submissions into the final three:
---
CWAs Across 20 Years
Affectionately known as the CWAs, the contest was the brainchild of Professor Emerita Linda Honan, PhD, MSN, CNS-BC, RN, ANEF, FAAN. It began as a journal exercise, and at the virtual celebration in 2020 Dr. Honan recounted the impetus for founding this unique outlet, especially for Graduate Entry Prespecialty in Nursing (GEPN) students.
"When you write, you learn what you think about things. GEPN is so fast. I was always afraid they would forget the rigors of what they had been through otherwise. And my hope is that when they look at the journals 10 years later, they have patience for people who are going through it now."
To view a complete list of winners and read more award-winning work, visit Past Creative Writing Awards.