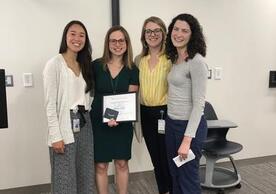 Preceptorship bridges the gap between the classroom and the clinical area where nursing is practiced. At the Yale School of Nursing (YSN), there are two programs for Preceptors: Preceptors for GEPN and Preceptors for Master's Program Specialties.
YSN Preceptor Awards festivities included the announcement of awards to all preceptor. The descriptions below have been lightly edited and condensed from the June 14 remarks.
 Congratulations to all the recipients!
---
Pediatric Nurse Practitioner (PNP) Preceptor Awardee: Marcie Gawel
Nominated by her students MaryGrace Brogioli and Chloe Minervini
Remarks from MaryGrace Brogioli: Every teaching moment was excellent, I can't pick one. She took the time to explain things to us that I would have otherwise never learned about.
Remarks from Chloe Minervini: Marcie always let her students lead with our interests and class materials. We were able to seek out cases such as respiratory distress when we were learning lung assessments. She always made us feel welcome and capable, and highlighted patient comfort for each age group. 
Marcie allowed us to observe an incoming trauma. The case was for an 18 month old child in respiratory distress. Each step of the way, not only was she wonderful at explaining what the team members were working on, but she also made sure to address the child's family and make sure they were getting support during such a scary time. 
Family Nurse Practitioner (FNP)/Adult/Gerontology Acute Care (AGACNP) Preceptor Awardee: Arleen Read
Nominated by her student Kristen Janko
Remarks from Kristen Janko: Arleen was a patient and thorough teacher, both for me and for all of her patients. In all of the patient visits I observed and participated in over the last three months, Arleen never cut corners when it came to giving her patients all of the information they would need to successfully achieve their healthcare goals. In addition to providing thorough patient education during the visit, Arleen also took extra steps to ensure that students needs outside of their healthcare were met. For example, she discussed coursework extensions when applicable (clinical site is Mount Holyoke College) and ensured that students were connected with home providers and knew how to continue their medical care over the long summer break. Arleen was an excellent role model for many reasons, but watching her efficiently take the time to holistically prepare and empower her patients to care for themselves is something I will never forget.
One example that highlights Arleen's skill as a clinical instructor is the way in which she worked with me to learn and execute the skill of pelvic exams and pap tests. I wanted to become proficient in this skill and when Arleen sensed my hesitancy on the first day, she switched into teacher mode: modeled several pelvic exams while I observed, blocked off time one morning to show me how to prep the room and then listened as I ran through a sort of simulation/practice run, and offered to be present in the room as I executed this new skill. I will be forever grateful to her for her patience and for her ability to make me feel comfortable enough to ask for help and guidance throughout my experience.
In addition to Arleen's clinical knowledge and fantastic teaching ability, she is also a wonderfully kind person. It was really great to work with her and her entire team at MHC and I bet all future students that work with her will enjoy their time there, too!
Certified Nurse Midwife (CNM)/ Women's Health Nurse Practitioner (WHNP) Preceptor Awardee: Ashley Draper
Nominated by her student Angelique Saavedra
Remarks from Angelique Saavedra: No matter how busy our day is, Ashley ALWAYS takes the time to go over our day and discuss patient cases with me. There has not been one day in two semesters where she has rushed me out of clinical. She always takes the time to ensure that I understand something that I might be struggling with. 
Although I see Ashley model excellent care during each clinical shift, I was particularly moved one time when she provided compassionate care to a teenager who needed additional time and support. Ashley ensured she was connected to the appropriate resources, validated, and listened to this patient's concerns. Together a plan was made and the teenager said she was so glad she Ashley and found a health care provider she could trust. 
Not only is she a great preceptor and role model, she is an amazing patient advocate. 
Acute Care Preceptor Awardee: Irene Haight
Nominated by her student Andrea Desmond
Remarks from Andrea Desmond: Irene previously worked in transplant as a nurse practitioner and I expressed concern over not understanding the complete process of organ transplantation and the meaning of certain follow up exams.  Irene used her expertise and explain to me all the transplantation steps, complications, pharmacology and monitoring levels to monitor in a succinct and understandable way that allowed me to feel comfortable addressing these complex patients going forward.  
A medically complex patient presented to our service who was previously discharged from another hospital with a cuffed tracheostomy and sent to short-term rehab and seemingly forgotten.  She presented to Irene and my service with a new acute medical issue and failure to thrive, and after working on resolution of her new colitis, Irene tirelessly advocated for this patient to have a cuffless trach tube placed as well as the hopes that she could be decannulated because the patient.  Per her insurance, we worked really hard to get her to the Step-Down Unit for a capping trial as required by her insurance.   We got a lot accomplished for the patient that day and I later heard she was decannulated so it was really nice to see the direct impact patient advocacy can directly have on patient outcomes.
Irene is dedicated to both her profession and her patients.  In addition to being a preceptor for nurse practitioner students, she is also involved in Yale's ILCE to promote a multidisciplinary team approach and understanding amongst APPs and physicians. Irene is a also Doctorate in Nursing practice and has been self-motivated to reach the pinnacle of nursing practice and is an excellent resource for nurse practitioners furthering their education and becoming leaders in the field.
Graduate Entry Prespecialty in Nursing (GEPN) Preceptor Awardee: Natalie Cooper
Nominated by her students Hannah Ruben, Lauren Siverly, Channon Connor and Sandra Ley
Remarks from Hannah Ruben, Lauren Siverly, Channon Connor and Sandra Ley: Natalie, there are many of us here to say thank you. You were our introduction to medicine, to patient care, to patient assessment, and to self-advocacy.
In post conference, we dug through your bins of "stuff", the stuff that makes a nurse, like peak flow meters and butterfly clips, venturi masks and suction catheters. As a natural and graceful teacher, you helped us to become comfortable gradually, to understand our role.
Thank you for your patience and for your unrelenting kindness. In all of your teachings, you have catapulted us into the present. We stand here ever so grateful for your mentorship and guidance. You are to thank for the very stuff that we almost-nurses have become.  
Psychiatric-Mental Health (PMH) Preceptor Awardee: Gail Sicilia
Nominated by her student Polly Huynh
Remarks from Polly Huynh: Gail is able to help you draw out critical analyses about patient risk and motivation for actions. Processing cases has been one of the most insightful teaching moments where she has thought me to always take into account, developmental history, trauma, social network, and personality. It's definitely shaped the way I now approach learning about patients. 
Gail has been an excellent role model where she exemplifies what it takes to do assertive community treatment. Meeting clients where they are and being flexible is something she always makes sure to do and that is what makes her such a great provider. She is empathetic, understanding, and seasoned with many experiences to share. It was been such a wonderful learning opportunity learning from Gail. 
---