Nurse-Midwifery & Women's Health
A focus on women and their families
The nurse-midwifery/women's health nurse practitioner (NMWHNP) prepares students as competent nurse-midwives and women's health nurse practitioners who provide family-centered primary health care. Relevant research and concepts from nursing, midwifery, medicine, and the sciences provide a base for clinical practice and primary care. Students actively reflect on their clinical practice and leadership throughout the program.
Clinical practice takes place across a variety of health care systems that provide for medical consultation, collaborative management, and referral and is in accord with the Standards for Nurse-Midwifery Practice of the American College of Nurse-Midwives and the National Organization of Nurse Practitioner faculties Competencies for WHNPs. Electives and independent study offer opportunities for students to pursue individual educational and professional goals.
Graduation
Yale School of Nursing does not currently offer part-time midwifery or women's health nurse practitioner study plans.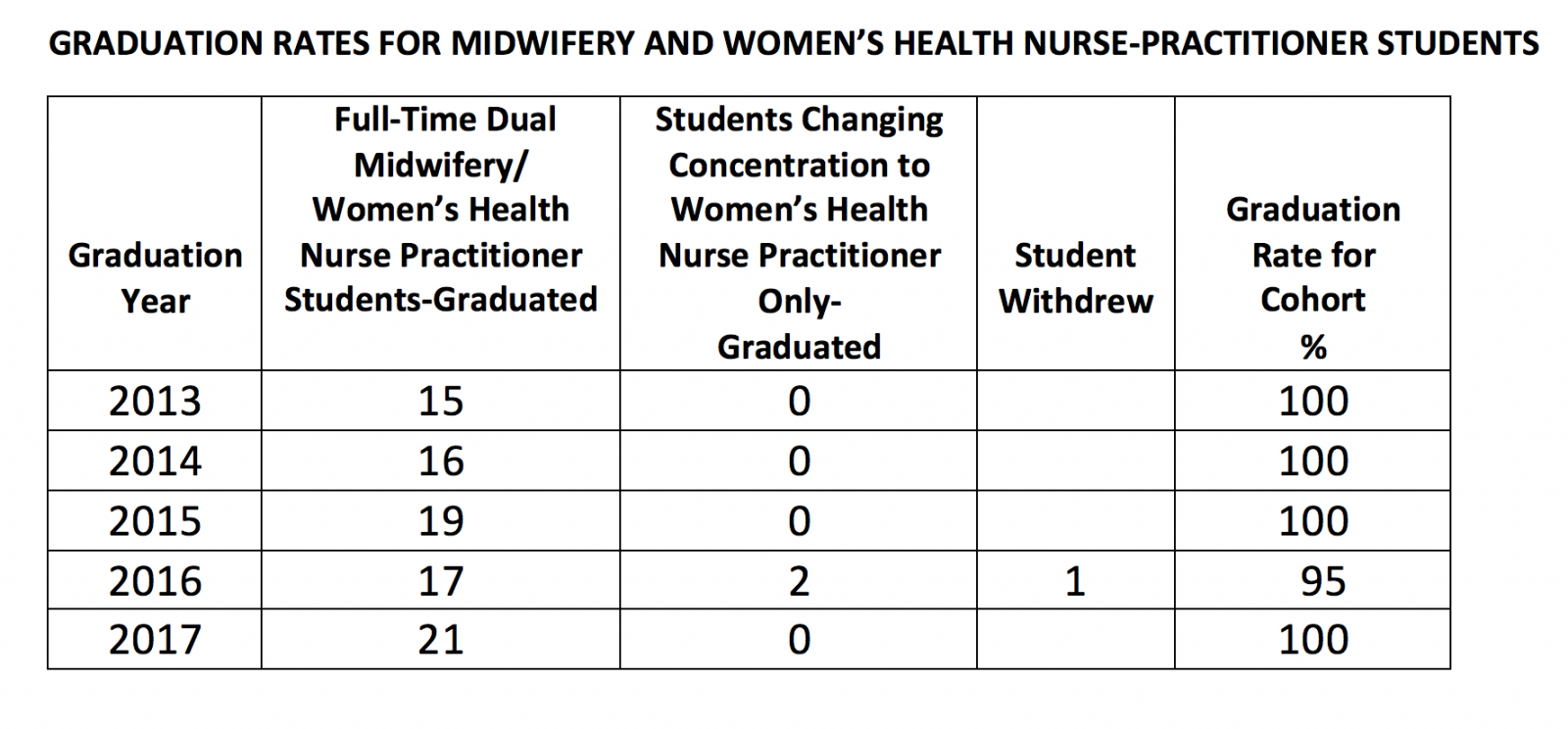 Certification
The NMWHNP program curriculum prepares students to be eligible for the Certification Examination of the American Midwifery Certification Board and Certification as a WHNP by the National Certification Corporation (NCC).
Between 2011 and 2017, Yale's first time pass rate was 97% and 100% on the third retake (1 student).
Accreditation
The Yale midwifery program is accredited by the Accreditation Committee for Midwifery Education (ACME), 8403 Colesville Road, Suite 1550, Silver Spring, MD 20910; 240-485-1802, www.midwife.org/acme.
The master's degree program in nursing at Yale School of Nursing is accredited by the Commission on Collegiate Nursing Education, 655 K Street, NW, Suite 750, Washington, DC 20001, 202-887-6791.
Preceptor orientation program
Part I: The Yale Midwifery Program
Part II: Student and preceptor responsibilities evaluation process
Part III: The one minute preceptor
Helen Varney Professor of Midwifery
In 2009, Holly Powell Kennedy, CNM, PhD, FACNM, FAAN, was named the inaugural Helen Varney Professor of Midwifery. The endowed Varney Chair honors Helen Varney Burst '63, CNM, MSN, DHL (Hon.), FACNM, Professor Emeritus at YSN, whose contributions in nurse-midiwfery education, practice and scholarship have spanned more than 40 years.
Faculty practice
YSN is home to one of the earliest midwifery programs and faculty practices in the United States. The Yale Midwifery Faculty Practice has provided care to women for decades at Yale New Haven Hospital (YNHH) and the YNHH Women's Center. The practice continues to thrive and since January 2014 attends births at the Vidone Birthing Center of YNHH's Saint Raphael campus. The Yale Midwifery Faculty Practice works seamlessly with the midwives of Center for Women's Health and Midwifery to promote normal and physiologic birth. The midwives provide 24/7 midwifery care to the nearly 100 women who birth there every month.
The Yale Midwives provide compassionate, holistic and evidence based prenatal and gynecologic care to women across the life span. In addition, the Yale Midwifery Faculty Practice is a teaching practice for the School's midwifery students. The practice collaborates with the Yale School of Medicine's Department of Obstetrics and Gynecology to provide interdisciplinary education to midwifery students, medical students, and OB/GYN residents. In addition to teaching students in the outpatient and hospital settings, the Yale Midwives support students in learning labs, simulation, and classroom teaching.
The Yale Midwifery Faculty Practice is excited to announce the opening of a new office in Westport, CT.  If you are interested in finding out more about the Yale Midwifery practice please contact Erin McMahon CNM, EdD at 203-737-6545 or via email at erin.mcmahon@yale.edu.
Meet the specialty directors
---