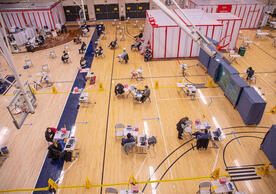 Yale School of Nursing (YSN) Family Nurse Practitioner (FNP) student Emma Kravet '22 MSN is one of about 100 YSN students administering COVID-19 vaccines to patients eligible under Connecticut's Phase 1a and 1b guidelines.
The students are working at the Lanman Center on Yale's main campus in New Haven. Lanman was previously outfitted as a field hospital at the start of the pandemic in the spring of 2020. In addition to giving vaccines, YSN students greet and screen patients and oversee care in the post-vaccine observation area in collaboration with a Yale Health clinician and RN Rapid Response Team. 
"Yale Health's collaboration with Yale School of Nursing students has really helped make the Lanman Center vaccination clinic a success," said Nurse Manager Cheryl Carden, RN. 
"These students, who are licensed RNs, are all very bright and upbeat. They are a pleasure to work with. We have about 100 YSN students who are administering vaccines, and the clinic is currently seeing up to 600 patients per day."
"It has been a really joyful experience to share in the excitement of community members coming to receive their vaccine," Kravet said. "I've vaccinated grandparents who are ecstatic about the possibility of hugging their grandchildren in the near future, frontline healthcare workers, researchers, and many others who have been waiting for the vaccine to be able to fly home more safely to their families."
COVID-19 cases in the United States recently topped 25 million and more than 450,000 deaths are attributed to the virus. A disproportionate number of those deaths has been among members of the Black community, and Kravet said that serving in this role at Lanman has underlined the longstanding racial disparities exacerbated by the pandemic. 
"One of my first patients was a Black woman who asked if she could Instagram Live her experience receiving her vaccine," Kravet said. "She shared that it was important to her to livestream the experience to help her family, friends, and followers feel more comfortable with the idea of being vaccinated. She talked about the Tuskegee study that, along with centuries of systemic racism and disparities in the fields of medicine and public health, has sown deep distrust."
Kravet sees a strong connection between classroom study and her work on central campus.
"The need for anti-racism in nursing education and practice is crystal clear, particularly with respect to equity in vaccine distribution and building trust with all patients considering the vaccine," Kravet said.
A COVID-19 vaccination clinic for the general public is now open seven days a week at Building 410 on West Campus. 
For more information about Connecticut's COVID-19 vaccine distribution and eligibility guidelines, visit the Connecticut COVID-19 Response page at ct.gov.