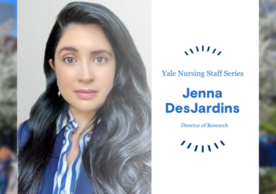 Jenna DesJardins started as the Yale School of Nursing (YSN) Director of Research on June 14. She brings 20 years of experience working with both federal and non-federal sources of research funding in a university setting, most recently in a leadership role for the Research Administration office at Emory University's School of Medicine. She has advised faculty and staff in both pre and post award, trained and served as a mentor for professional development, and led several initiatives for process improvements in a line of work that relies on process expertise. 
As YSN's Director of Research, you navigate Institutional Review Boards (IRBs), regulatory offices, and the Office of Sponsored Projects (OSP). What is a typical day is like for you?
In a compliance and deadlines-driven office like this one, every day brings new challenges. I do my best to make this convoluted, complicated process of obtaining research funding as smooth and simple and headache-free as possible for our faculty. 
I help develop hiring strategies for work on grants, assist with budgets, help faculty think outside the box in terms of funding sources, and try to anticipate future needs for administrative skills, supplies, participation incentives, and anything else that comes along. Right now, I'm putting together tools to guide researchers through the grants process to make everything as smooth as possible.
The work is dynamic, and every research administrator will tell you that Yes or No answers don't exist: the correct response to any research funding question is always "It depends!" 
You started out pursuing a degree in psychology. How did you decide to make the switch to research administration? 
You hear a lot in this profession that research administration finds you, that you don't find it, and that's definitely true for me! I started working as a temp in Columbia at a research office and just fell in love with it.
One of the greatest things I love about what I do is that while I'm not a researcher the work that I help facilitate does make people's lives better. I've worked on projects that help find the money to fund HIV progressions, study COVID-19 during a global pandemic, and test effective interventions. I love helping people and this is my way of contributing.
It's really special when an investigator welcomes you into their world, lets you see the lab, invites you to take this journey with them. And seeing the progression of the work, being a part of that professional growth, is so rewarding.
What inspires you about joining the YSN community?
Before Emory I was at the Rutgers School of Nursing. One thing I learned about nurses there is that while they're tough cookies they are also the most empathetic human beings you will ever meet. 
Nurses really do care about their patients. It's special to see that and see them in action. It takes a unique person to be a nurse. You have to be tough to take on the doctors and also be compassionate with patients. Nurses are really what make the healthcare world turn. 
When I started my transition to YSN, this community welcomed me right away. I'm so appreciative of how many people reached out to help me find a place to live or say hello or offer advice. I'm a New Yorker, and we can be wary of people who are too nice! But everyone really helped me hit the ground running and I'm excited to be here.
Staff Series