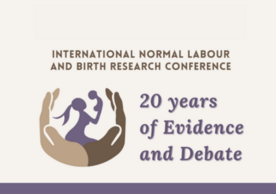 Yale School of Nursing's (YSN) Helen Varney Professor of Midwifery Dr. Holly Kennedy, PhD, CNM, FACNM, FAAN cohosted the "Normal Labour & Birth: 20 Years of Evidence and Debate" conference with international partners on December 1 and 3 to accommodate time zones in two hemispheres.
The sessions welcomed about 250 students, faculty members, clinicians, researchers, and public health experts from around the world to discuss everything from optimizing childbearing physiology to determining which indicators and benchmarks are the most valuable when assessing quality maternal and newborn care.
"The science and evidence around the health effects of physiologic labor has evolved over the past two decades," Dr. Kennedy said. "Part of the challenge is that we live in a society that has an increasingly technological approach to birth."
In addition to decades of research in this area, Dr. Kennedy is closely aligned with YSN's Quality Maternal & Newborn Care (QMNC) Research Alliance, many of whose members attended the conference.
Cohost Dr. Soo Downe, OBE, MSc, PhD, of the University of Central Lancashire in the United Kingdom kicked off the event by sharing a recap of how the series began and has evolved over time. Since 2001, the conference has seen more than 11,000 delegates and featured more than 2,000 oral and poster presentations.
It has circled the globe, stopping in the UK, Brazil, Australia, and Canada, and taking place virtually from India last year.
The first conference in the series was spurred in part by the 2001 study "Labour Interventions Associated with Normal Birth" in the British Journal of Midwifery.
"There was a range of births that were deemed to be normal but when we actually looked at what happened during those births it was quite clear that a lot of interventions had actually happened in the process of those births that were called normal," Downe said. "So the rates of normal or spontaneous birth were actually much lower than were being recorded."
Both Kennedy and Downe saluted the research advances since the series began. These include a deeper understanding of the epigenome and how that might be influenced by the mode of birth; an increasing understanding of the nuances of how Oxytocin functions and is used by the body; and the impact of delivery mode-associated gut microbiota dynamics on health in the first year of life.
Learn More
Conference recordings will soon become available to QMNC Research Alliance members: join today to receive these notifications and other resources or reach out to Dr. Kennedy directly.